What Is This 6'3" NFL Lineman Doing in Honduras?
Congress Should Pass the Global Food Security Act to Help 12 Million Poor Children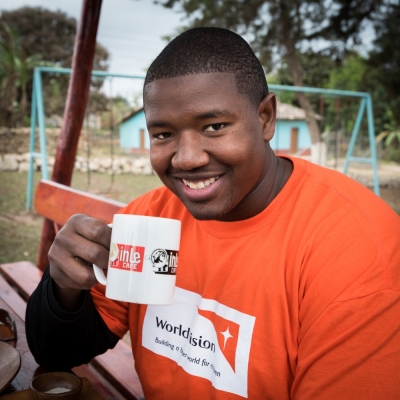 At the end of February I sat in the back of a classroom high in the mountains of rural Honduras and watched as an instructor gave a math lesson to a group of nine year-olds in Spanish. The most remarkable part of this experience wasn't my unfamiliarity with the native language or that a 6'3 NFL offensive lineman was sitting in the back of an elementary classroom in Latin America, but the fact that the class was being led by a nine year-old boy named Kevin.
Kevin is part of a peer-to-peer tutoring program called Agua Blanca at a World Vision funded school in San Juan, Honduras where children take control of their own learning process.
An important part of that process is making sure that children have clean water and healthy nutritious food so they can focus on learning the building blocks that will help lift themselves and their communities out of poverty.
Whether you're a student in Mexia, Texas where I grew up or in the highlands of Honduras, it's hard for a kid to focus when his stomach is rumbling. A student cannot fuel their education without first fueling their body.
In western Honduras where Kevin lives, more than 40 percent of children under the age of five are estimated to suffer from stunting, in large part due to inadequate nutrition. Without proper nutrition early in life, children's lifelong health and educational productivity suffer.
The US government has a food security strategy that helps amplify projects like Aqua Blanca. In the last year alone this focused approach has reached more than 12 million children with nutrition interventions and helped nearly 7 million farmers gain access to new tools or technologies such as high-yielding seeds, fertilizer application, soil conservation and water management. This food security strategy is currently focused on 19 priority countries, including Honduras.
And now we have the opportunity to build on those gains by securing funding through the Global Food Security Act (known in the House as H.R.1567).
This legislation encourages a comprehensive, sustainable approach to global food security, supporting the most effective and innovative agricultural development practices and addressing chronic hunger and malnutrition.
On Tuesday, the Global Food Security Act passed in the House with overwhelming support. Next, it moves to the Senate (S.1252), and then to the White House.
I applaud the work of groups like World Vision, Bread for the World, and others, and encourage our decision makers to think about the message passing this Act would send to people around the world — that we want all of our children to have access to nutritious food so they can not only survive, but thrive.
Kelvin Beachum is a husband, father and offensive lineman with the Jacksonville Jaguars.