White People Who Oppose Late-Term Abortion 'Fear End of Whiteness,' Claims Ivy League Professor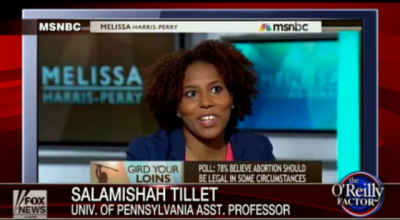 Salamishah Tillet, an associate professor of English and Africana studies at the University of Pennsylvania, boasted that members of Congress and state legislators who are passing bills to place restrictions on abortion are acting out of racial fears that they're becoming a minority demographic group in the United States.
"For the first time in American history, a majority of children under the age of 5 are racial and ethnic minorities in the U.S. I think that there's a kind-of moral panic, a fear of the end of whiteness that we've been seeing for a long time, and Obama's ascension as president symbolizes that to a certain degree," Tillet said as a panelist on MSNBC's "MHP" on Saturday.
"I think this is one response to that sense that there's a decreasing white majority in the country, and that women's bodies – and white women's bodies in particular – are obviously a crucial way of reproducing whiteness: white supremacy, white privilege."
She continued, "If you thought that Obama winning the election meant that the GOP's war on women was over, you were wrong. Obviously, it's an ongoing onslaught against women's reproductive freedoms and reproductive rights. Ongoing state and national legislations to limit women's reproductive choice [are] part of their platform and a response to other issues that are going on, like immigration reform as well as affirmative action. All of these are all part of a changing demographic in the U.S., in which women's reproductive rights are part of that."
Members of the U.S. House voted 228 to 196 Tuesday evening to pass Rep. Trent Franks' (R-Ariz.) "Pain-Capable Unborn Child Protection Act" that would place a federal limit on late-term abortions after 20 weeks, except in circumstances of rape, incest or if the mother faces a medical emergency that would require the termination of her pregnancy. The bill is expected to fail in the Democrat-controlled Senate.
Rep. Marsha Blackburn (R-Tenn.), who led the debate in the House Tuesday night in support of the bill, said in a statement shared with CP, "The question we have to ask ourselves is this: What is the moral difference between what Kermit Gosnell did to a baby born alive at 23 weeks and aborting her moments before her birth?"
"To condemn Gosnell is to condemn late-term abortions," Blackburn added. "To condone late-term abortion is to condone the tragedy that allowed poor women and children in that House of Horrors in Philadelphia to suffer and die. With over 60 percent of Americans supporting a ban on abortions in the second trimester and over 80 percent supporting the ban in the third trimester, our humanity compels us to end this violent and abhorrent practice."
Arkansas is one of 10 states that bans abortion after 20 weeks of pregnancy, following a law passed by state legislators this year.
Similarly, North Dakota also carries one of the strictest abortion laws in the country, banning the practice at the sixth week of pregnancy.
Last week, Wisconsin state senators passed a bill named "Sonya's Law" that will require women seeking an abortion to receive an ultrasound and to see their baby's heartbeat before going through with the procedure. They're also considering two other bills: the "Health Care Conscience Act" that would prohibit the use of public funds to pay for abortion coverage for public employees, and would exempt religious organizations from providing insurance coverage for abortion-inducing drugs; and the "Prenatal Nondiscrimination Act" that would ban sex-selective abortions.