White Teen Accused of Torching Historic Black Church Stole Trucks and Rammed Vehicles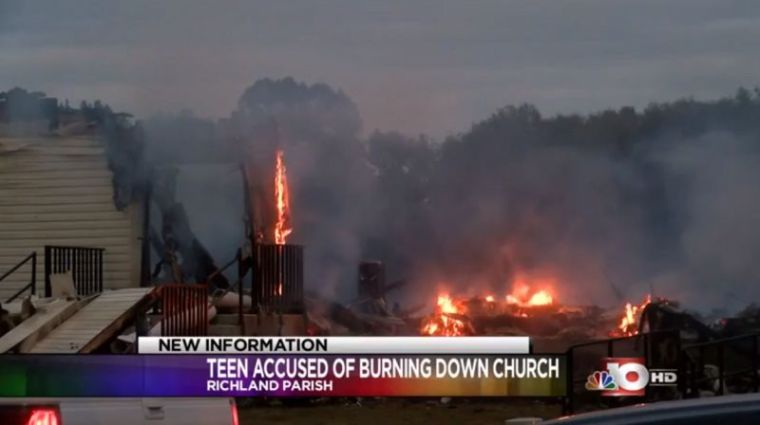 A 15-year-old white teenager from Louisiana has been arrested after being accused of setting fire to a predominantly black church. The teen was also accused of stealing two trucks and ramming them into vehicles at a local school.
The Associated Press reported on Wednesday that the incident took place at St. Paul Missionary Baptist Church on Tuesday, with the teenager burning down the church's new sanctuary, which stored valuable relics.
The juvenile also reportedly stole two trucks that he used to smash into vehicles at Caldwell Parish High School.
The Caldwell Sheriff's Office took the youth into custody after he was found driving one of the Entergy of Louisiana utility trucks that was stolen.
Richland Parish Sheriff Gary Gilley said the teenager will be facing charges of arson in his parish.
"I couldn't believe it," witness Mary Alexander told MyArkLaMiss.com. "Because we was just here last night for a church meeting and you never expect things like this would happen this close by."
Alexander added, "We don't know why, only God know's why ... what's going through that person's mind. So we just ask for prayers for that person as well as our church family."
The woman said that despite the attack, the congregation remains strong in the faith.
"God is in our heart the church is in us, not the building. We can't stop. Jesus didn't give up so how can we give up?
"Like I said, we still have the old building. We're still gonna move forward," she continued.
A motive for the attack was not immediately made clear.
In August a Tennessee pastor reported that his truck was spray painted with the N-word by a 13-year-old white teenager.
"Y'all believe it's real yet? This is my truck at Collierville High School in Collierville, TN! #StayWoke," Jason Mitchell, pastor at Perfecting Love Community Church, wrote on Facebook, sharing a photo of his vandalized truck.
Collierville police charged two juveniles with vandalism and civil rights intimidation following the indent, with the parents of the 13 year old publicly apologizing.
"It was just something stupid that we thought would be funny, but it didn't turn out to be funny at all," the boy told Fox13. "It wasn't supposed to be racist."
"I regret it so much. I want to say I am sorry to the pastor and to the other person," the teenager said. "I didn't mean to put anybody through this. I never did, and I feel so bad."
Christian leaders have condemned white supremacy rallies that were held this year in Virginia and Tennessee and attended by a couple hundred people, with Tennessee Baptists denouncing late last month planned National Front rallies in Shelbyville and Murfreesboro.
"As Tennessee Baptists and as Southern Baptists, we are categorically opposed to the white supremacy movement and any movement that diminishes the dignity of any human," said Randy C. Davis, president and executive director of the Tennessee Baptist Mission Board.
"If history holds true, the intent of these groups gathering is to fear monger and fan the flames of racial hatred," Davis added. "This bigotry has no place in our American society and it certainly has no place in the life of anyone who is a follower of Jesus."