Who Says New York City Doesn't Want Jesus? Misfit the Conference Sells Out in Big Apple, For God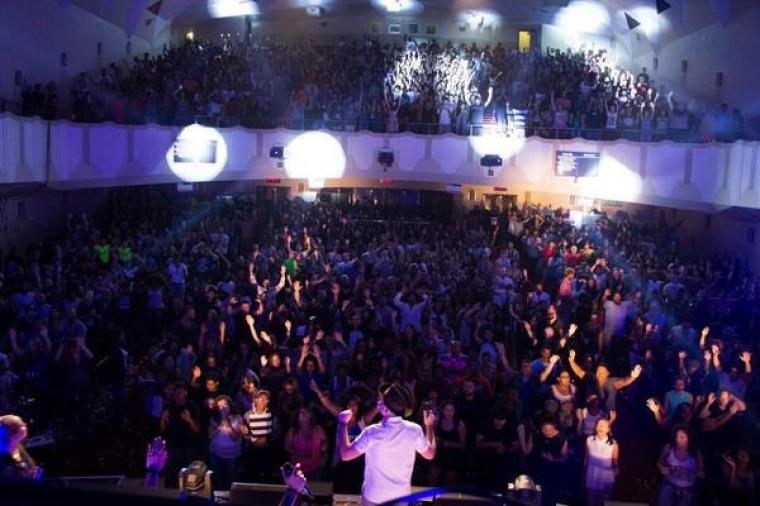 The annual Misfit the Conference event kicked off in the Salvation Army Centennial Memorial Theater in New York City last Thursday, and featured prominent Christian pastors and artists from all over the world.
The sold-out 3-day conference, coordinated by Pastor Chris Durso of Christ Tabernacle Church in Queens, NY, included sermons from Hillsong NYC's Carl Lentz, Chris's mother Pastor Maria Durso, Erwin Mcmanus, Chris Hill, Chad Veach, Durso himself, and Rich Wilkerson Jr., the Florida minster who recently made headlines for marrying rapper Kanye West and Kim Kardashian.
The event, which appeals to youth and young adults by using hip-hop artists such as Andy Mineo, and worship bands like Hillsong Young and Free, also pushes the envelope by playing instrumentals from secular songs to engage the crowd.
Chris Durso explained the reasoning behind the use of secular music at Misfits to The Christian Post.
"It's really important that [Christians] can show that we're aware of culture," he said. "The reason why [people in the crowd] knew those songs were secular is because they heard them [before]. Let's not act like people aren't hearing it and aren't listening to it. Do I agree with the messages? Absolutely not. But I will take something that was meant for bad and I will use it for good."
Both secular and Christian hip-hop music were staples at Misfits as Reach Records artist Andy Mineo took the stage the opening night. DJs spun classic hip-hop songs and the theater resembled a night club with strobe lights and confetti showers.
"Hip-Hop is one of the greatest languages of our culture right now, and one of the coolest things about Misfit conference is how it incorporates so much hip-hop [into it]," said Rich Wilkerson Jr. to The Christian Post. "I don't think that's a strategy, I think it's organically who they are. I think hip-hop is a part of [Durso's] church, so they naturally use it. Misfit conference is something that embraces it and uses it to really spread the gospel."
Hosting a conference such as Misfits in a city like New York comes with its fair share of criticism. Durso discussed some of the naysayers who told him that Misfits would never work in place that is not considered a Christian market.
"This is our fourth year in a row doing conference, and it is sold out every year," said Durso to CP. "I had [Christians] tell me you don't do conferences in New York. It's not a market you could crack. It will be really difficult. [Being from Queens], I've never understood why people have viewed New York the way that they have. There's a plethora of great churches here."
New York seems to appreciate what the Dursos are doing with their church and Misfits.
"They impact the community of Ridgewood, Queens," said Misfit attendee, Laura Arlequin, 34. "How Durso stands out as a leader. He doesn't care about his surroundings. His fidelity to God is amazing."
The sentiment about Misfits is also shared by fellow Christian leaders from other churches in the New York City community. Brooklyn Tabernacle Young Adult Pastor Todd Crews discussed the conference's impact on the Big Apple.
"I think Misfits is doing a lot for New York City," said Crews to CP. "Chris Durso, and his wife Yahris are two of the finest leaders in the city. What I love about them is that their heart is not just for the church and one generation. Their heart really is for the city. If you look at churches in the New Testament, it was the church at Ephesus, the church at Corinth. Really the church is called towards the city that they're in and I really think Misfits is geared around that idea of God being placed [here]."
The Misfit movement encompasses more than just the conference. The event also featured the Misfit Rap Society and Misfit NYC Republic worship band who frequently perform under the banner. The movement even has the Misfit clothing line which was sold during the 3 days.
Wilkerson Jr., a close friend of Pastor Durso explained the meaning behind the Misfits title.
"Misfits is really cool because it's super diverse. It's people from all over the place that the only thing they really have in common is Jesus," said Wilkerson Jr. to CP. "[The] Misfits [title] is all about being uncomfortable with the current standings and status quo and us making a change. I think Misfit conference is really a call to action. It really challenges [Christians] to live our faith boldly and unashamed."
For more on the sermons at Misfits, including encouraging words from the Dursos, Wilkerson Jr. and the Young Guns, stay tuned to CP.