Why Evangelicals Shouldn't Vote for Trump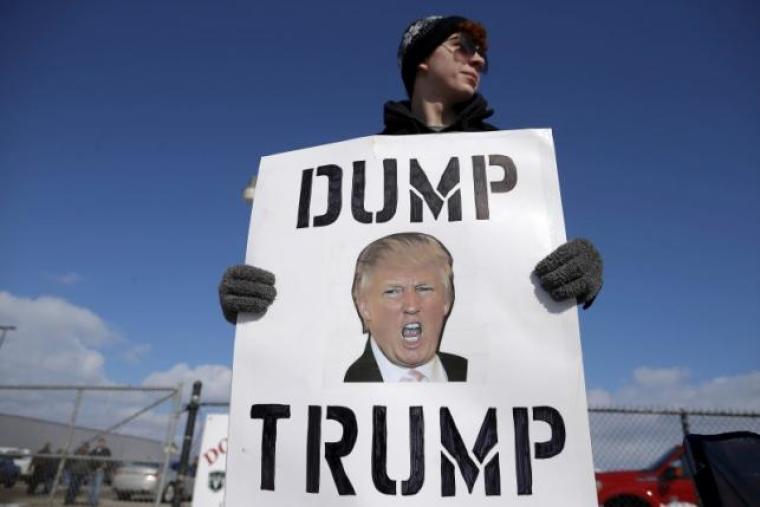 Editor's note: This editorial is one of two follow-up articles to a CP staff editorial laying out two options for Evangelicals in this year's challenging presidential election — either vote for Trump or cast a protest vote. In this editorial, CP Politics and Opinion Page Editor Dr. Napp Nazworth argues Evangelicals should cast a protest vote instead of supporting Trump. A second editorial, by CP Executive Editor Dr. Richard Land, argues that because of the dangers presented to the country and Evangelicals in particular by a Hillary Clinton presidency, evangelicals should reluctantly vote for Donald Trump
My fellow Evangelicals: Don't fall for the temptation to vote for Donald Trump.
The editors of The Christian Post recently explained why we, and Evangelicals in general, are split on whether to vote for Trump. Evangelicals shouldn't vote for the Democratic nominee, Hillary Clinton, we argue, but the Trump option is more complicated.
As the CP editors pointed out, politics in inherently transactional, and Trump is offering Evangelicals something they want in exchange for their vote. The primary and most important offer is favorable Supreme Court picks. Evangelicals are rightly concerned about the future direction and influence of the Supreme Court, which is why this offer is so tempting.
The only advisable options, we concluded, were to vote for Trump or to cast a protest ballot, by voting for an unelectable independent or write-in candidate, or by leaving the presidential race blank while voting the rest of the ballot.
While Executive Editor Dr. Richard Land presents the case for voting for Trump, here are the reasons to cast a protest vote.
I'm a political pragmatist. I've long argued that my fellow Evangelicals shouldn't wait for the perfect candidate before voting. Modest, imperfect gains are preferable to withdrawing from politics because you can't get what you want. I voted for John McCain and Mitt Romney, even though neither were my first choice. But my pragmatism has bounds, and Trump is far outside the boundaries of an acceptable presidential candidate.
Trump shouldn't be judged as an anti-Clinton vote. Those who vote for Trump should understand what they are voting for.
Trump feeds bigotries and instigates violence. Rather than calling us to live up to the better parts of our nature, he encourages the worst parts of our nature. Videos of his rallies tell the tale. Racist slurs are shouted from mouths and proudly announced on T-shirts and signs. Trump encourages supporters to punch demonstrators and they comply.
CP has taken many controversial stances over the years on issues like homosexuality and abortion, but it was only after our anti-Trump editorial that threats became a security issue. The main office of The Christian Post recently had to increase security due to death threats. This is the type of behavior Trump encourages.
Imagine the damage Trump could do with the bully pulpit. Four years of that would shred this country to pieces.
Furthermore, in many of his appeals to Evangelicals, Trump's reasoning sounds dangerously close to ideas espoused by The Great Tempter.
The Church, which has God on its side, needs Trump, we are told.
Trump claims the he, and he alone, will "protect" Christianity. He has said he would give Christians "great power" and would increase the numbers and influence of Christians in America.
 In a trailer for an upcoming documentary on PBS' "Frontline," Trump surrogate Omarosa Manigault says, "every critic, every detractor will have to bow down to President Trump." Plus, we know from a New York Times profile of Trump's butler, called "A King in His Castle," that Trump prefers his minions to treat him like royalty.
Trump's offer of great power and expectation of fealty bear striking resemblance to Satan's offer to Jesus in Luke 4:9: "'All this I will give you,' he said, 'if you will bow down and worship me.'"
Trump isn't Satan. If Trump were Satan he would know what the Bible says much better than he does. But the fact that I feel the need to clarify that Trump isn't Satan illustrates the problem. The fact that Trump uses Satan-like tactics should concern Evangelicals.
What does it say about Evangelicals that we could fall for such a ruse?
What does it communicate to politicians that the vote of Evangelicals can be so easily bought?
What do non-Christians think when they see Evangelicals looking to Trump for revival and political power?
The Obama years have been unkind to Evangelicals. But as we see repeated throughout the Old Testament, God uses challenging times to bring renewal and revival when His people have strayed. But a revival won't be jumpstarted by voting for Trump, a person whose values are antithetical to all the Church holds dear. If anything, backing Trump will only stunt the growth of the Church in America.
This is not a call for Evangelicals to give up on the presidential election, withdrawing in despair, heads held low. This is a call for Evangelicals to be actively engaged in opposing both Clinton and Trump. With grace, humility and wisdom, Evangelicals should announce their opposition and offer a better way.
They should offer a politics that both denounces bigotry and fights for the lives of unborn babies carried to abortion mills, upholds freedom of conscience for themselves as well as Muslims and everyone else, and communicates the benefits of true marriage for the public good while working with the LGBT community to prevent bullying, runaway teen homelessness and other issues of common concern.
Let us show the nation there is a better way. Evangelicals, working alongside those with similar values, can offer a biblically-sound political philosophy that maximizes order and liberty, values work while eliminating extreme poverty, and recognizes the dignity of all without requiring conformity. Let us work on that, not on electing Trump.
Trump can't be trusted. He has demonstrated repeatedly that he'll say whatever benefits him at the moment and change positions the next. He has no center. The only thing Trump is for is himself.
Don't make a deal with a man like that. If you play around with this snake you'll likely get bit.