Wife of Pastor Who Worked for Billy Graham Resigns County Clerk Position Over Gay Marriage: 'I Choose to Obey God Rather Than Man'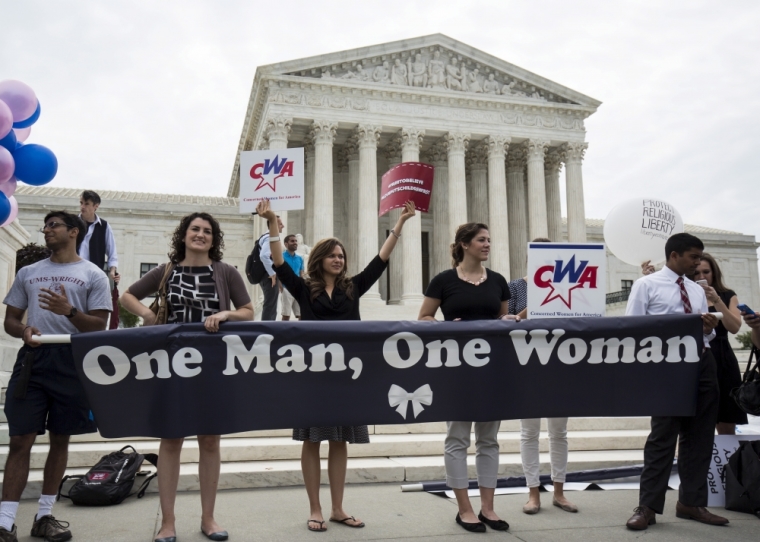 Following the Supreme Court's ruling last Friday that states must issue marriage licenses to same-sex couples, at least two county court clerks in Mississippi and Arkansas have already resigned because they will not comply with the court's ruling, while other clerks across the nation have had differing responses to the ruling.
On Tuesday, Linda Barnette, a circuit court clerk in Grenada County, Mississippi, announced her resignation and explained that it was due to the fact that the Supreme Court's ruling conflicted with her Christian belief that marriage should only be between one man and one woman.
Barnette, who held her position for 24 years before her resignation, said she is choosing "to obey God rather than man."
"The Supreme Court's decision violates my core values as a Christian," Barnette wrote in a letter to the Grenada County Board of Supervisors. "My final authority is the Bible. I cannot in all good conscience issue marriage licenses to same-sex couples under my name because the Bible clearly teaches that homosexuality is contrary to God's plan and purpose for marriage and family."
Acquaintances of Barnette told The Clarion-Ledger that Barnette's husband is a pastor who has worked with world renowned evangelist Billy Graham for several years.
Effective Tuesday, Dana Guffey, a clerk in Cleburne County, Mississippi, told the Associated Press that she informed judge Jerry Homes on Monday that she is stepping down from her post.
Guffey, who has also held her post for over 24 years, said she arrived at her decision because she has deep moral objections to issuing same-sex marriage licenses.
After Gov. Asa Hutchinson stated that he expects county clerks to follow the Supreme Court's ruling and the state's Attorney General, Leslie Rutledge, directed government offices to comply, Guffey knew she had to step down.
"It is definitely a moral conviction for me," Guffey explained. "I didn't announce anything publicly or on social media or anything because I didn't want my decision to be seen as hateful. I know some people will look at it like that, but this wasn't easy. It wasn't a decision I made lightly. And I do not hate anybody."
Guffey called an emergency meeting of the Cleburne County Quorum Court to address her resignation.
"My officemates understand," she said. "They're not judging me, the same as I'm not judging anyone else who issues the licenses. It's my conviction, though."
Although the Supreme Court's ruling will force other clerks and magistrates around the nation to comply with the new law or step down to stay true to their religious beliefs, Guffey and Barnett are the only two known clerks to have resigned thus far.
Another Arkansas county clerk, Susie Williams of Dallas County, told the Arkansas Democrat-Gazette that she considered stepping down after the Supreme Court's ruling but decided against it after praying.
"After a lot of praying and thinking about it, I've decided to stay," Williams explained. "I'm trying to stay where the lord wants me to stay."
"I'm bound by law to do what the Supreme Court tells me to do," she added.
A number of clerks in states across the Bible Belt are neither resigning nor issuing marriage licenses. Casey Davis, who is the county clerk in Casey County, Kentucky, told AP that he would rather go to jail rather than issue a same-sex marriage license or resign from his job.
Kim Davis, county court clerk for Rowan County, Kentucky, is no longer issuing marriage licenses for any couple, gay or straight, following the court's decision, which has caused protests outside her office.
"It's a deep-rooted conviction; my conscience won't allow me to do that," Davis told AP. "It goes against everything I hold dear, everything sacred in my life."
Sam Marcosson, a constitutional law professor at the Louis D. Brandeis School of Law at the University of Louisville, told AP that if a public official can no longer uphold their duties under the law then they should no longer be able to occupy that office.
"If it means that you simply cannot fulfill your duties because of your religious beliefs, what is required of you is that you can no longer hold that office," Marcosson asserted. "That applies to a judge, that applies to a senator, that applies to anyone who holds public office."
Contrary to Marcosson's statement, Arkansas State Sen. Jason Rapert told the ArkansasOnline.com that public officials have the right to stand against the "unjust ruling."
"County Clerks have rights," Rapert said. "I stand with any elected official to refuse to comply with an unjust ruling that violates their religious beliefs."