'God Is Going to Put Me Where He Wants Me,' Says Outspoken Christian QB Russell Wilson on Re-Signing With Seattle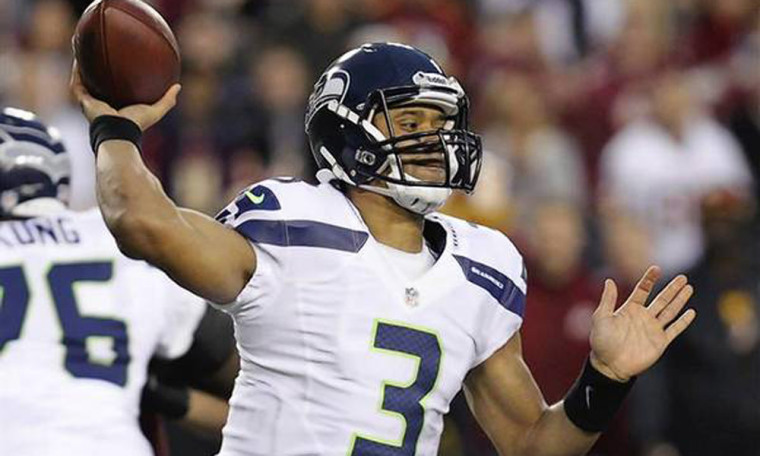 Outspoken Christian Super Bowl-winning quarterback Russell Wilson said he's going to let God decide where he'll be playing the next stage of his NFL career, as his contract with the Seattle Seahawks is set to expire at the end of the 2015-2016 season.
While discussing the possibility of a contract extension in an interview with "The Adam and Joe Show" on Raleigh, North Carolina's 99.9 The Fan sports talk radio Monday, Wilson stressed that while he would love to stay in Seattle, it's God who will choose which city he'll call home come the start of the 2016-2017 season.
"At the end of the day I trust the process," Wilson said. "I know God's going to take me and put me where he wants to have me. I hope that's Seattle. I love it there, it's a great place."
Although Wilson wants to continue to play with the team that drafted him out of college in 2012, his recent extension talks with the Seahawks have reportedly come to a bit of a halt. Wilson and his agent, Mark Rodgers, are believed to be seeking a five-year deal in the range of $150 million, which would make Wilson one of the highest paid players in football.
Wilson told The Fan that even though he's spent all three, soon to be four, seasons of his NFL career with the Seahawks, he's familiar with the experience of picking up from a community that he has grown to love to leave it for greener pastures.
Wilson, who came to the NFL from the University of Wisconsin, spent his first three collegiate seasons at North Carolina State but transferred to Wisconsin for his senior year after NC State head coach, Tom O'Brien, had issues with Wilson playing minor league baseball during the offseason.
"But I've gone through the ups and downs and been moved around before," Wilson asserted. "I loved NC State and loved playing there, and then having to go somewhere else and start new."
Being in the final year of his four-year $2.99 million rookie contract, Wilson clearly expects to land a deal worth over $100 million, whether that means agreeing to an extension or signing elsewhere as a free agent. That's why Wilson decided to take out an insurance policy that will pay him millions should he suffer a career-ending injury in the upcoming season.
Wilson told reporters after a team minicamp last week that he's prepared to play out the rest of his contract without an extension, but stressed that "God willing," he hopes they can reach an agreement before the training camp starts in July.
"Hopefully that's the case, God willing. It would be nice, but if not, I'll be ready to go," Wilson boldly stated. "The one thing I know is it's a business, and business is an interesting thing. I just look at it that way. I've always understood I would be at this point at some time. It will work out however it's supposed to work out. We'll find out what happens."
Wilson added that he hasn't been distracted by the ongoing negotiations and he will continue to take his life in stride.
"Does it wear on me? No. I've been through so much," Wilson explained. "I just take one day at a time as I always have, whether I'm fortunate enough to receive a lot of money for a lot of hard work or if I'm still working for it. That's never going to change for me. I'm just going to do as much as I can to be successful."