Will Trump Ignore Our Great Big National Debt?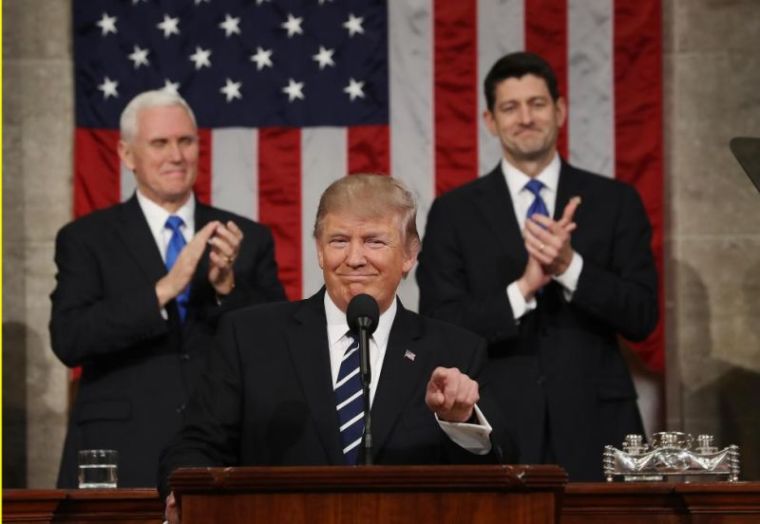 President Donald Trump is receiving much praise for his joint address to Congress due to his many unifying themes, but I worry it portends a continuance of the long standing unity among both parties to ignore our debt crisis.
Trump mentioned the debt only once, in reference to his predecessor, Barack Obama: "In the last eight years, the past administration has put on more new debt than nearly all other presidents combined."
That critique was followed by promises of huge tax cuts and huge spending increases for the military, infrastructure, and "a great, great wall."
The transcript showed only one "great" in that line. Trump ad-libbed the second. "Great" is one of Trump's favorite words. "Great," "greater," and "greatness" appeared 19 times in the speech. That didn't include the extra great he added to describe his wall, but it did include his catch phrase, "make America great again."
"Great" will also describe the Trump deficits (the amount added to the debt each year) without a plan and the will to implement it. Could we cut the cost of the "great, great wall" in half if we paid for a "great wall" instead?
Trump promised tax cuts for corporations and "massive tax relief for the middle class." On the spending side, in addition to the double-great wall he asked Congress for a $1 trillion infrastructure program, funding for a school choice bill, increased funding for veterans, and "one of the largest increases in national defense spending in American history."
The parts of the speech that would directly reduce deficits were small in comparison. He froze hiring for "non-military and non-essential federal workers" and he plans get foreign partners to help pay for the war with ISIS.
On healthcare, Trump argued for a "repeal and replace" of Obamacare, which could reduce deficits, but his plan sounded more revenue neutral — continue to provide subsidies and tax cuts but provide more flexibility on how it is spent. The other big driver of our debt, Social Security, was never mentioned.
Indirectly, the economy has a big effect on deficits, since a strong economy brings in more government revenue. But here again, the news is mixed. Cutting regulations and authorizing new oil pipelines will help, but reducing immigration, raising tariffs and starting a trade war will hurt.
Trump touts himself as a reformer and new kind of leader, but when it comes to addressing our national debt, currently over $19.9 trillion, it all seems eerily familiar — cut taxes, increase spending and ignore the fact that we've passed to our kids and our kids' kids a great, great burden.