Willie Robertson Reveals 'Duck Dynasty' Musical Is 'About Redemption'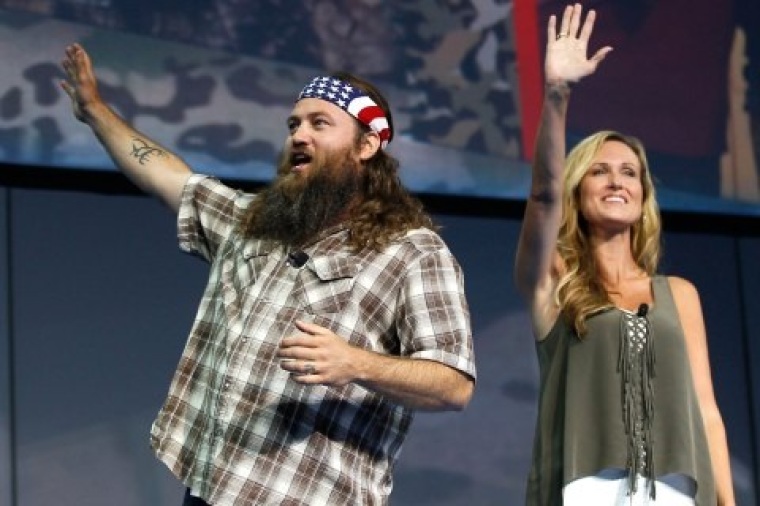 "Duck Dynasty" star Willie Robertson and his wife Korie finally revealed details about the upcoming musical based on their reality television series headed to Las Vegas this year.
News of the musical based on the Robertson family broke last year, but Willie and Korie offered additional information about the Broadway-style production while speaking to Fox News on Monday. While the musical will not star the Robertsons themselves, the production is based on Willie and Korie's book chronicling their rise to fame, "The Duck Commander Family."
"It's about redemption," Willie said, according to Fox. "It's about all these decisions we had to make in our life and overcoming and ending up being on TV and all that. It's a great story and it's pretty powerful."
The Duck Commander CEO and his wife also revealed details about casting characters for the musical, including an actor to portray Uncle Si who "nailed" the role, as well as the music itself.
"When we heard the first four songs played for us, Willie and I cried," Korie revealed. "We boo-hoed like babies… It's the story of the American dream."
"Duck Commander Family Musical" will debut at the Las Vegas Rio Hotel and Casino next month, adding another take on the cast of A&E's "Duck Dynasty." Although the Robertsons are not starring in the musical, the family has final say on the script and the production, according to Time magazine.
Meanwhile, "Duck Dynasty" takes place in West Monroe, Louisiana where the Robertson family runs the multi-million dollar Duck Commander business. Other "Duck Dynasty" favorites include Phil Robertson, Sadie Robertson and Kay Robertson. The series continues to generate ratings with many fans drawn to the Robertson's Christian beliefs. It will enter its eighth season on A&E later this year.