Willie Robertson Shares Emotional Video Baptizing Close Friend Before He Died Of Cancer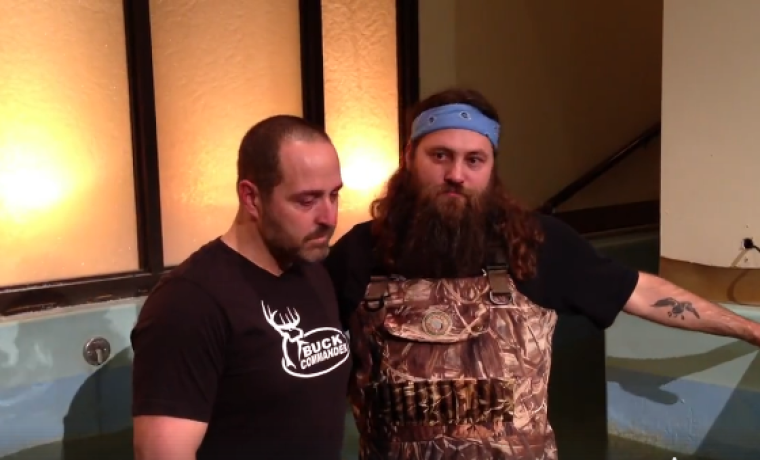 "Ducky Dynasty" star Willie Robertson shared an emotional video baptizing a close friend who recently lost his battle with cancer.
According to the video, Rick Carone, a longtime employee of Robertson's Buck Commander franchise asked the bearded reality star to baptize him when he found out he was battling terminal cancer.
The video was posted as a memorial to Carone and revealed that Carone had gone home to be with Jesus.
"Today marks the end of a long battle for our good friend Rick Carone," Robertson posted on the Buck Commander Facebook page. "Cancer may have taken Rick's earthly body but now he is in heaven walking with Jesus! Rick inspired so many people and will forever be remembered as a fighter. See ya' soon brother! We love you!"
Robertson choked up while in the baptismal pool with his buddy and shares Carone's diagnosis and his desire to "make sure he is right for eternity."
"No matter what, we're going to be in eternity together," Robertson declared, then asked Carone who's going to be the Lord of his life to which Carone responds, "Jesus Christ."
Robertson then baptized him as everyone's cheers.
A videographer for the TV series, "Buck Commander" Carone was also a former football and baseball star. He played in the White Sox's minor-league from 1993 to 1996.
Sadly, the Cary, N.C. native died early Thursday at age 46 after a four-year battle with pancreatic cancer.
Carone founded The Team Carone Foundation in August 2014 as a way to give back to the community and on Thursday afternoon it was the foundation that officially announced his death in a Facebook post.
"It is with a heavy heart that our warrior, Rick Carone, was called home to be with the Lord early this morning on June 29, 2017," the announcement read. "Rick was a fighter, and lover of life who helped anyone he came in contact with, and never let this disease be the definition of him. We will continue to spread his message to love one another and #ShutDownCancer to best of our abilities. We will always love, and deeply miss our dear friend/brother who inspired so many."
Carone was first diagnosed with the disease in May 2013 and was told he would only live for about six months. Lasting much longer than a few months, he used the last four years to give back to the community. According to NW Herald he helped the community through scholarships, donations to cancer research and "gifts of love" all distributed through the Team Carone Foundation.