Woman Gang Raped on Orders From Makeshift Court in India After Being Caught With Married Man; Village Defends Rapists
The Indian village where a woman was ordered to be gang-raped on the orders of a kangaroo court earlier this week has defended the men who participated in sexually violating her.
Both women and men alike in Chowhatta in West Bengal, India, have come to the defense of the at least a dozen men who attacked a woman, who was punished for having a relationship with man who lived outside of their town.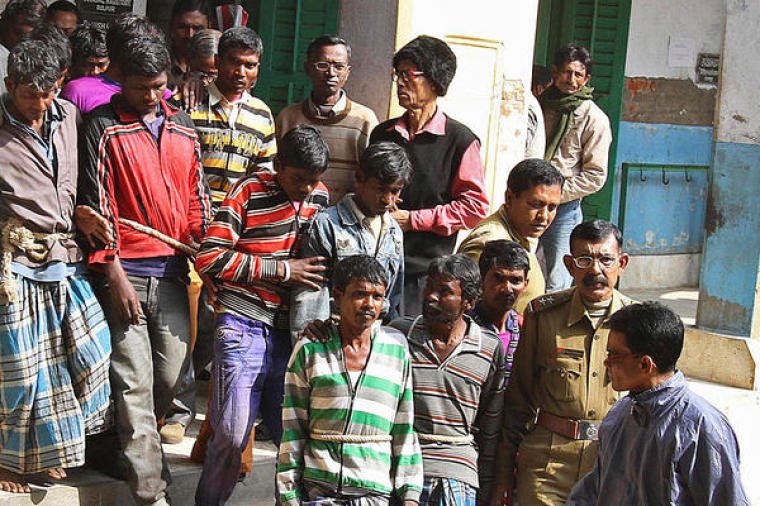 Authorities have been hampered in their investigations into the horrific gang rape incident, according to The Times of India. Local residents have said that they do not want authorities entering Chowhatta and "interfering in our daily lives." They have also moved to prevent journalists from entering the village and "demeaning their culture."
Members of the town have also insisted that the make-shift court's decision to order the gang rape was entirely justified because the woman was "caught in a compromising position with a married man of another village."
Another woman claimed that the 20-year-old woman had brought the action upon herself after refusing to leave their town.
"Some of our boys rounded up the duo and brought them to the village. We tied them up but didn't ask our men to rape her, nor did we demand money. Our elders told the girl to leave the village if she wants to stay with that man. She threatened us that she will not yield. She spoke to someone in Hindi and went to police to get our men arrested," said a woman, according to The Times of India.
The victim met her lover while both of them were working on the village's school building.
One woman, whose husband has since been arrested for the gang rape, said that the victim's actions had disrespected the building.
"It is this under-construction school that has brought shame to our village. It's here that the two met. She has brought disrespect to our community," she insisted.
Thirteen people have been arrested so far in the case, although local villagers have remained silent, with no witnesses of the rape coming forward to help authorities.
Opel Murdy, a delegate of Bharat Jakat Majhi Maroa, an organization representing the Santhal ethnic group, many of whom live in West Bengal, said, "We strongly condemn the torture on the girl. We shall try to remove the misunderstandings but we cannot totally deny the system of community-headman. It has many good sides too."
After being caught, the woman and her married lover were brought before village elders and tied to a tree where they were each forced to pay $400 as a fine for the adultery. While the man's family paid his fine, village leaders allegedly ordered that she be "enjoyed" by the men of Chowhatta, according to local reports.
"I lost count of how many times I was raped," the woman was quoted as saying by the NDTV news network.