Woman Seen Kicking, Shouting on First Day of Pastor's Trial for Rape, Sex Trafficking: Video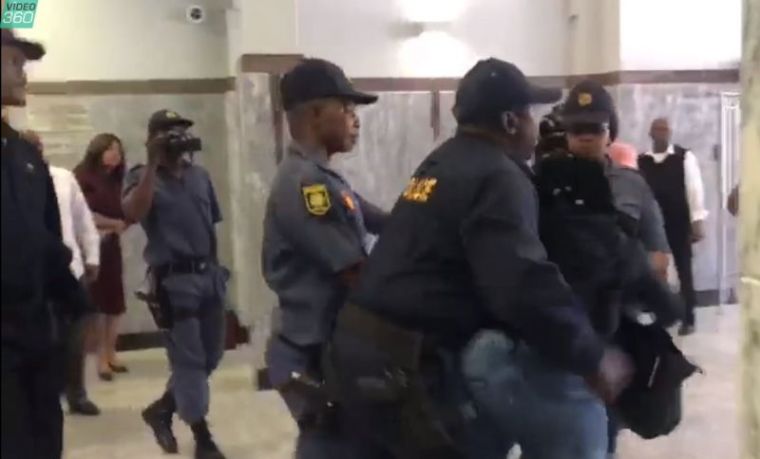 A video showing an unidentified woman being forcefully removed from a court building was released by authorities on the first day of a trial for a pastor accused of rape and sex trafficking in South Africa.
The chaotic scene occurred at the Port Elizabeth High Court in South Africa on Tuesday, where Nigerian Pastor Timothy Omotoso refused to plead guilty or innocent to the 63 charges against him concerning rape and human trafficking, African News Agency reported.
A woman, who was not identified, reportedly attempted to present herself as Omotoso's security, but was forcefully led out by police. Several congregants of Omotoso's Jesus Dominion International Church who wanted to be in the courtroom for the proceedings weren't able to get in because the courtroom was full.
The 58-year-old televangelist, along with two women, are accused of recruiting and sexually exploiting girls from all over the country.
The preacher is accused of trafficking more than 30 girls and women belonging to branches of his church in South Africa, along with charges of fraud and being in the country illegally.
The two women, Lusanda Sulani and Zukiswa Sitho, have also refused to plead to charges that include rape, sexual assault, racketeering and trafficking in persons.
State Prosecutor Nceba Ntelwa, when reading out the charges, said that a 13-year-old girl and 14-year-old boy were among the alleged victims.
Peter Daubermann, a defense lawyer, insisted that the accused were not properly informed of the charges against them.
"However badly they want to, they are unable to make a plea explanation because there is not sufficient information of the charges," Daubermann said.
The Citizen reported on Wednesday that the first witness, 22-year-old Cheryl Zondi, spoke before the court and explained that she joined the Jesus Dominion International Church in 2009, when she was 13 years old.
Zondi claimed that Omotoso sexually assaulted her and placed upon her and other girls rigid rules at a house he provided for them to live, such as not allowing them to sleep more than five hours at a time.
The victim alleged that the pastor recited Psalm 51 and told her that their sexual relationship was a covenant between them and God.
The pastor was reportedly flamboyantly dressed at the trial and his supporters filled the courtroom.
Judge Mandela Makaula has entered a plea of not guilty on behalf of the three accused.
Omotoso was arrested in April 2017 at the Port Elizabeth Airport where footage was captured showing him being led out in handcuffs. He claims on his website that he leads an "apostolic and prophetic ministry designed under Trinitarian auspices to propagate the gospel of Jesus Christ."
What is more, he says that he's a "prophet," and that he leads "Holy Ghost" clinics where people are supposedly "healed and delivered."
Watch the video of the woman being forced out of the court premises below: