Woman's Obsession With Witchcraft Ends When She Faces Demonic Spirit, Finds Power in Jesus' Name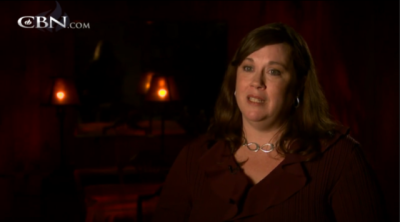 Kristine McGuire, a wife and mother, became intrigued with ghost hunting and witchcraft and attempted to blend the occult with her Christian faith until she encountered a demonic spirit.
McGuire and her husband, Tom, explained in an interview with CBN that Kristine had become so deeply involved in witchcraft that she had become a witch, and was ignoring the biblical teachings of her youth.
"Basically, I ignored what the Bible said and read the rest of it to be what I wanted it to mean and folded it into witchcraft," Kristine explained.
As time went on, the McGuires' marriage began to suffer as they questioned their belief in God and their Christian faith. The couple later separated after Kristine learned that Tom was having an emotional affair with a woman he met online.
"I felt abandoned by God and didn't have control over my own destiny and wanted to connect with a female energy, connect with a goddess," she explained. "I felt that feminine energy, because it appealed to me, as a woman."
During the five years that followed, Kristine delved even deeper into witchcraft, but wasn't able to get loose of the feeling that God was trying to grab her attention as the Holy Spirit convicted her for her obsession with the occult and ghost hunting.
"I would say that He was poking me with a stick trying to help me to come to my senses, because you know, I knew what I was doing was wrong, but I chose to ignore that," she added.
Still, Kristine became more involved in ghost hunting and even became a medium and said she communicated with spirits.
While Kristine was searching for ghost hunting groups to participate in in her community, her estranged husband, Tom, had rededicated his life to Jesus Christ and tried to reconcile with his wife.
"I told her God had a greater plan than we had," Tom said.
Although the couple reunited and was working to save their marriage, Kristine's identity continued to be that of a ghost hunter, medium and a witch.
Despite Tom's attempts to encourage Kristine to change, she refused. Thus, Tom depended on prayer and for God to reveal the truth to his wife.
One night while ghost hunting, Kristine felt an entity around her and realized that it was a demon.
"At one point, I felt like I should command this spirit to leave in the name of Jesus," she recalled. "There was an authority that I hadn't used in years. 'In the name of Jesus,' you are uninvited."
Kristine explained that even though she didn't hear any sounds or sinister noises after she shouted the command in Jesus' name for the demonic entity to go where Jesus wanted to send it, she later received an email that contained an attached file of an electronic voice phenomenon (EVP) that someone had recorded during the ghost hunt.
"A few days later, I got an email with a file attached that had an EVP. It happened to be the clip when I told the spirit it had to leave in Jesus' name. It scared me, to be honest. It sounds inhuman," she described. "What you hear is what can only be described as a scream. It was the strangest thing I had ever heard. I had just heard a demon react to the true honest power of Jesus' name."
Kristine then sent the file to her husband, who's an audio engineer, expecting to find that the file wasn't real and had been edited before being sent to her.
But Tom never found an edit in the recorded audio file, and told his wife that the clip was real.
"It freaked her out," he said. "She started realizing there's power in Jesus' name. He wasn't just, you know, a good guy, He is the son of God."
This encounter marked the moment when Kristine realized that she had to stop her form of spiritualism that combined witchcraft with Christianity.
"I realized I had been fooled," she insisted. "I had given myself over to demons. It was at that moment that I literally got down on my face and poured my heart out to the Lord and begged for his forgiveness."
Kristine emphasized that she had renounced all of the witchery and ghost hunting that she had been involved in for so long. Tom also knew that God had answered his prayers, and that he had personally witnessed God's power.
"I believe in the power of prayer," Tom said. "I figured that by praying a lot, eventually things would turn around. I had faith that God could do it."
Kristine also discovered a newly found love in her husband, whom she credits for loving her enough to trust that God would save her.
She warned others against dabbling in the occult, or even finding a fascination with TV shows that promote ghost hunting and searching for paranormal entities.
"The most important thing I would say is to read the Bible," Kristine advised. "Understand the power that is behind these things and the occult. It's a very real power. And its only intent is our spiritual destruction.
"There's nothing like the power of Jesus. Jesus saves, forgives and loves. Jesus is everything."