Christian Teens Terrorized by Demon After Bringing 'Dirty Magazine' to Church Lock-In in Anti-Porn Film
'The Lock In,' Premiering January 2014, Takes on 'Growing Epidemic' of Porn Addiction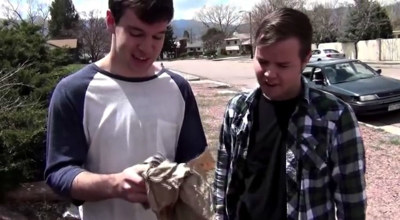 A new "found footage" horror film called "The Lock In" from Holy Moly Pictures takes on pornography consumption and addiction — what producers call "a growing epidemic in the church community" — by linking the dangers of porn consumption to demonic activity.
The movie, shot in a style made popular by cult classic independent film "The Blair Witch Project," focuses on three teens who take a pornographic magazine to an overnight church lock-in as a joke. The only trouble is, the joke turns into a nightmare, and not just for them, but for the other youths participating in what should have been a fun bonding event.
"Movies have always been a good medium to highlight social issues. Pornography is a growing epidemic in the church community for men, women, and children with most of the underage victims being exposed in a place thought to be safe," reads a description of the film in a press statement from the producers.
According to a 2009 report by Focus on the Family, "an estimated 28,258 people every second, mostly men (72 percent) but also women (28 percent) view pornography." The report also noted that Christians were not immune from porn consumption, revealing that 45 percent of Christians have said pornography was a big problem in their homes.
In addition to being entertaining, the producers, Christian comedian Rich Praytor and Beverly Banks, say they want "The Lock In" to be used "as a tool for conversations about the dangers of pornography and the importance of being aware."
In regard to the demonic aspect tied to the film, they explain that the "demon is a metaphor for the true damage pornography can have in the lives of youth."
"The Lock In" is void of any graphic or pornographic images.
"The producers of the film felt that it was important to tell a Christian story about real issues but to keep the images family friendly so anyone could be entertained without fear of exposure to questionable pictures," reads the press statement.
The official website for "The Lock In" features a backstory or mythology for the film, similar to "The Blair Witch Project," that cites the church where the captured-on-tape demonic activity unfolds at "First Baptist Church." There is credit given to "the families and the First Baptist Church for their cooperation in releasing the footage to the public."
"The Lock In" will be distributed directly from Holy Moly Pictures through online downloading and streaming starting Jan. 9, 2014. Watch a preview of "The Lock In" in the video below, or on YouTube.