'Women's Rights' Effort in New York Stalls Over Gosnell-Like Late-Term Abortion Fears
'Women's Rights' Effort in New York Stalls Over Gosnell-Like Late-Term Abortion Fears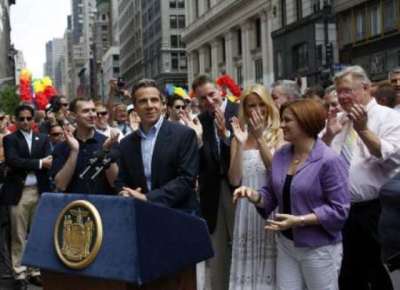 New York lawmakers are tussling over Democrat Gov. Andrew Cuomo's 10-point "Women's Equality Act" that includes a provision to expand late-term abortions and would allow "any health care provider" to perform abortions, thus "increasing the number of high-risk, late-term abortions in a state that already has the highest rate of abortions in the United States," according to Serrin Foster, president of Feminists for Life.
In an effort to pass his 10-point plan during the final four days of the state's legislative session, Cuomo, a 2016 presidential hopeful, "is changing the language in the bill in an effort to attract Republican votes, specifically adding language that makes clear that partial birth abortions will not be made legal," according to NY 1.
"From the start, we've said that what the governor is proposing is either unnecessary or an extreme measure that expands late-term abortion. Nothing has changed," said Kelly Cummings, spokeswoman for Sen. Skelos (R-Nassau County), in a Thursday response to news reports about changes to the governor's abortion proposal. "We remain confident, however, that an agreement can be reached on the other nine points of the overall proposal, allowing us to achieve passage of a strong women's equality agenda for New York."
Republicans and members of the Independent Democrat Coalition, led by Sen. Jeff Klein (D-Bronx/Westchester), hold a majority in the senate over mainline Democrats, and have to agree on whether to bring the Women's Equality Act to the floor for a vote. Both the Republicans and IDC members of the senate find agreement with nine points of the 10-point agenda – such as achieving equal pay for women, strengthening human trafficking laws and ending pregnancy discrimination, among others – but are opposed to Cuomo's abortion provision, which they see as being an expansion of late-term abortions, despite the governor and abortion-advocates' claim that it won't increase abortions.
Sen. Rubén Díaz, a pro-life Democrat, also issued a statement opposing Cuomo's provision on aboriton. "[A]lthough Gov. Cuomo's Women's Equality Agenda contains nine provisions that are very good, there is one provision that will expand abortion practice in New York. Cuomo's bill will immediately permit abortion up-to nine months; it will permit non-doctors to perform abortions; and it will eliminate laws that would jail abortionists like Kermit Gosnell."
He continued, "much to our disgrace, New York is already known as the abortion capital of our nation. One in every three pregnancies already ends in abortion. In black and Hispanic communities, abortion rates are close to 60 percent. … I completely agree with my dear friend, Cardinal Dolan, who stressed: 'The direct taking of the life of a child in the womb in no way enhances a woman's dignity.'"
Earlier this month Cuomo touted his Women's Equality Act during a speech at Vassar College in Poughkeepsie, N.Y., in which he asked the audience to push lawmakers to vote in favor of his 10-point plan, especially the expansion of abortion. Cuomo said pro-life groups that "believe in the right to life, and that abortion is murder and it should be stopped," are affecting the state's political system and are attempting to "roll back the protection that makes abortion legal." He emplored New Yorkers to proactively call their state representatives and thwart the efforts of the pro-life movement.
According to Sen. Andrea Stewart Cousins (D-Yonkers), whose Reproductive Health Act that removes restrictions on abortion – such as parental notification, a 24-hour waiting period, and would ban the prosecution of criminals whose violent attacks against pregnant women led to the deaths of their unborn babies – is supported by Cuomo, believes the abortion provision in the governor's Women's Equality Act only codifies Roe v. Wade, and will not increase the number of late-term abortions performed in the state.
"We're pushing for a vote on all 10 points," said Mike Murphy, communications director for Sen. Cousins, to The Christian Post on Friday. "We need the Women's Equality Act, and the abortion provision is not seen as an expansion of abortion, but merely a codification of Roe. v. Wade."
Kelly Vincent-Brunacini, the executive director of Feminists Choosing Life of New York, holds a different opinion, and told CP on Friday that her organization supports nine of the 10 points in Cuomo's Women's Equality Act.
"It seems that the governor and his coalition are willing to forego the other wonderful and much needed benefits for women within the plan for the sake of the abortion component," she said. "This leads us to question whether or not their commitment to women is genuine or whether WEA is merely a political maneuver to advance their radical abortion agenda and the governor's political aspirations by bundling a lot of things that people really want for women with the unpopular abortion component that research shows people do not want."
Brunancini continued, "While the coalition has said that they will 'tweak' the wording of the bill to address concerns over allowances for partial-birth abortion, this is a mere platitude. Even though the partial-birth abortion ban will stand, the governor's bill will allow other types of late-term abortion procedures that are equally unacceptable and violent. WEA with its abortion component will put women's health and lives in danger and represents a deal breaker for many New Yorkers and their senators. For the sake of the other benefits of the WEA and for the sake of women themselves, the governor needs to take the abortion component out of the WEA and get it passed before the end of session."