Worship Service Targeted in Deadly Grenade Attacks in Kenya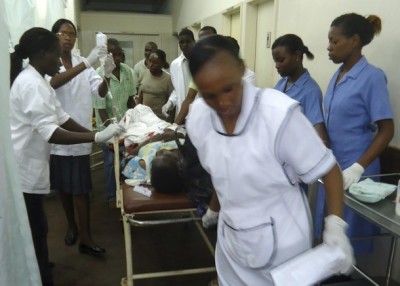 Two twin grenade blasts Saturday killed an estimated two people and injured over 30 in a Kenyan city where Christians had gathered to hold an outdoor worship service. 
The first blast was thought to be a grenade attack during a Christian worship service in Mtwapa, a town outside Mombasa. That blast killed two and injured over 30, International Christian Concern (ICC), a Christian advocacy group, informed The Christian Post Tuesday.
Immediately after the that first blast, another took place in a packed restaurant in Mombasa, reportedly injuring five people.
In Mtwapa, the Christians were holding an outdoor worship service at the time of the attack.
"Three people who were sitting in a parked car near the site of the event threw a grenade and drove away," the Rev. Simon Kirariuki Kimami, a pastor with the Kenyan Assembly of God, told ICC. "Then I heard a blast and saw some women down, crying for help."
More than 150 Christians were attending the outdoor service. One woman died on the spot, Kimami said. About 15 people were seriously wounded. Two days after the blast, a young boy died from the injuries, the pastor said.
Kenyan officials blame members of the radical Islamic group, Al-Shabaab, which merged with al-Qaida earlier this year and has declared war against the nation, for the attacks. Kenya has suffered a string of grenade attacks since it sent its troops across the border to Somalia last fall to battle al Shabaab rebels.
Although it was not clear whether the attack on the worship service had a religious undertone, local and international Christians have responded with calls for peace.
"My message to Christians around the world is to be steadfast in serving and honoring the Lord Jesus Christ, even in the face of persecution and sometimes violent attacks," Patrick Muchiri, pastor with the Mombasa Pentecostal Church told ICC. "[I urge Christians] not to retaliate. [Rather] they should show love even when they are attacked."
"We are deeply concerned about the bomb attack targeting innocent Christians," ICC's Regional Manager for Africa, Jonathan Racho, said in a statement e-mailed to CP. "We urge Kenya to protect its citizens from the growing attacks of the radical Islamists."
The advocacy group also informed CP that a Muslim prayer meeting was taking place 900 feet away, but was not attacked.