WOW Gospel Music Series Releases 18th Edition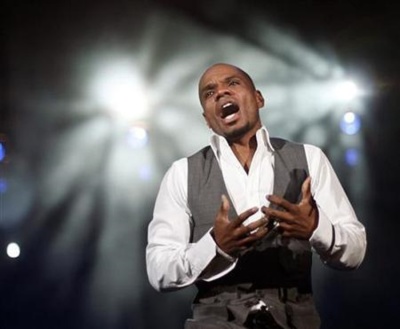 WOW Gospel is back for its 18th edition to bring some of the biggest gospel songs of the year to fans.
"WOW Gospel 2015" is a 30-track two-disc album that will feature a DVD including 13 videos. People will recognize songs from Kirk Franklin, Hezekiah Walker, Marvin Sapp, Fred Hammond, Donnie McClurkin, Tasha Cobbs, Jason Nelson, Tasha Page-Lockhart and more. A number of names featured on the disc are nominated for Grammy Awards including rapper Lecrae, Mali Music, Erica Campbell, The Walls Group, Ricky Dillard, William McDowell, and Smokie Norful.
The WOW Gospel Music Series was created in 1998 and has managed to sell 8 million units since its creation. Last year, WOW Gospel 2014 debuted at number 1 on Billboard's Gospel music chart.
Tasha Page-Lockhart, the season six winner of BET's Sunday Best music competition, recently wrote about being a part of the popular compilation.
"Honored to be a part of the Wow Gospel 2015 get yours online and in stores everywhere," Page-Lockhart wrote on Facebook.
Kirk Franklin, the 44-year-old gospel music artist and executive, seems to fit right in on the album and previously told The Christian Post what he looks for in great gospel records.
"People don't live at church, they live in the real world. So music has to reflect that how people live, what they're doing as they go through their trials in life," he told CP. "So I just hope and pray that we're always able to tap into that and be that voice for people."
WOW Gospel 2015 CD:
Disc 1
The Walls Group - Perfect People
Kirk Franklin Featuring Mali Music - Give Me
Lecrae - All I Need Is You
Jamie Grace - Beautiful Day
Erica Campbell - You Are
Anita Wilson - He Loves Me
Brian Courtney Wilson - Worth Fighting For
Tamela Mann – I Can Only Imagine
James Fortune & FIYA - Live Through It
Mali Music - I Believe
Kierra Sheard - 2nd Win
Tasha Page Lockhart - Here Right Now
J Moss - Alright OK (Remix)
Fred Hammond - I Will Lift Him Up
Disc 2
Tye Tribbett - He Turned It
JJ Hairston & Youthful Praise - It Pushed Me
Jason Nelson - Dominion
William McDowell Featuring Nicole Binion - Can't Live Without You
Marvin Sapp - Deeper
William Murphy - It's Working
Ricky Dillard & New G - Amazing
VaShawn Mitchell - God My God
Tasha Cobbs - For Your Glory
Donald Lawrence Featuring Yolanda Adams - Best For Last
Smokie Norful - No Greater
Israel Houghton Featuring Donnie McClurkin, Marvin Sapp - Come As You Are
Hezekiah Walker - I Feel Your Spirit
Donnie McClurkin Featuring Tye Tribbett - We Are Victorious
Kurt Carr & The Kurt Carr Singers - We've Gotta Put Jesus Back
Beverly Crawford - Sweeping Through The City
WOW Gospel 2015 DVD:
The Walls Group - Perfect People
Deitrick Haddon - Touch Me
Jamie Grace - Beautiful Day
J Moss - Alright Ok
Lecrae - All I Need Is You
Mali Music - Ready Aim
Marvin Sapp - Deeper
VaShawn Mitchell - God My God
William Murphy - It's Working
William McDowell - I Won't Go Back
Bonus Videos:
Tasha Page-Lockhart - Different (Lyric Video)
Donnie McClurkin Featuring Tye Tribbett - We Are Victorious (Lyric Video)
Hezekiah Walker - Every Praise (Lyric Video)