'Yesterday Wasn't Just About the Game;' Russell Wilson Celebrates Comeback Win Against the Packers by Going to Church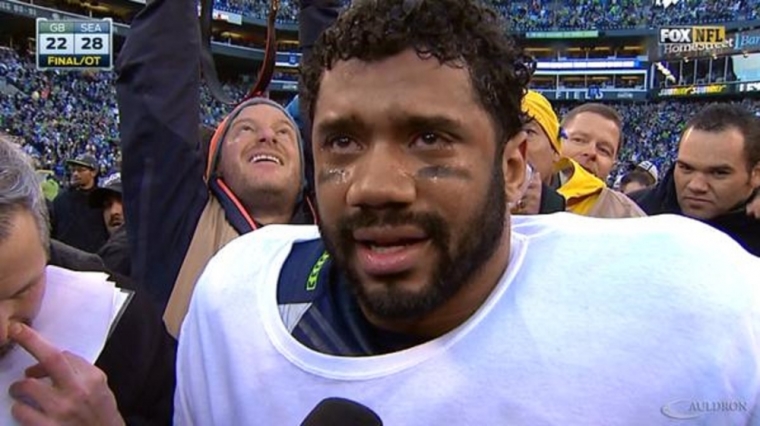 After his amazing performance in the NFC championship game against the Green Bay Packers in which he rallied his team to a gutsy and stunning 28-22 overtime victory Sunday, 26-year-old Seattle Seahawks quarterback Russell Wilson went to church and inspired a number of fans to go too.
While many fans who watched the talented quarterback celebrated him as the hero for pulling off the biggest comeback in championship game history, Wilson openly praised God as the real hero of the improbable victory and continued that celebration at the City Church in Seattle, Washington, led by pastor Judah Smith.
"The 1st place @DangeRussWilson went after that epic game? City Church Seattle w/ @judahsmith ...I find that, awesome…#habits #occupyplanted," Hillsong NYC pastor Carl Lentz noted in a tweet.
"It's amazing to see @DangeRussWilson at church after today's wild game! Great role model," added Jordan Kushan in another tweet.
Prior to the Seahawks win Sunday, Scott Vener had challenged Wilson and actor Doug Ellin that if the Seahawks won on Sunday he would go to church.
"If they win I'm going to church with @DangeRussWilson @mrdougellin," Ellin tweeted.
After the Seahawks won, he added: "Holy [expletive]. I believe in whatever God @DangeRussWilson prays to. Sign me up."
Wilson later retweeted Ellin's tweet, reminding him of his promise: "@brokemogul: If they win I'm going to church with @DangeRussWilson @mrdougellin" See you there tonight Scott and Doug! Haha."
Journalist Jeanne Hanigan confessed in a tweet that it was Wilson's witness on the field that convinced her to attend church on Sunday.
"@DangeRussWilson Didn't think I had time for church today, but after your inspiring display of faith & humility, I made it to mass. #gohawks," she noted.
In another series of tweets on Monday morning, Wilson noted in praise to God: "There is none like You! No one else can touch my heart like You do! I can search for all of eternity, but there is none like You!"
He further added: "Yesterday wasn't just about the game. ... It was So Much Bigger than just a game."
Wilson's Seattle Seahawks will meet AFC champions the New England Patriots in Super Bowl XLIX, which will be played at the University of Phoenix Stadium in Glendale, Arizona, on Feb. 1.