Seminary student Caylee Dugger taught on promise of Heaven hours before she was killed in car accident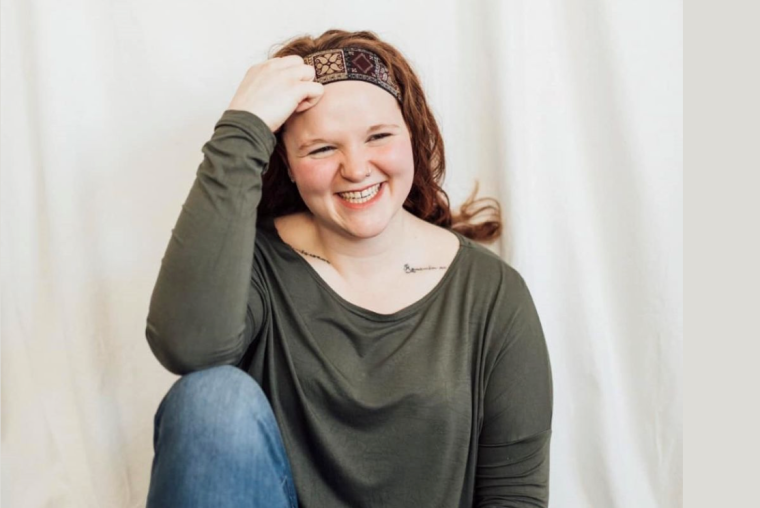 Hours before she tragically died in a car accident, youth director and seminary student Caylee Dugger preached on the promises of Heaven outlined in the book of Revelation. 
In a somber message delivered Sunday morning at First Baptist Church North Kansas City, Associate Pastor Mike Parrett revealed that on Thursday morning, just hours before she was killed in a three-vehicle wreck, Dugger taught the church's Women Missionary Union a lesson based on Revelation 7:9-17.
The passage reads, in part: "They are before the throne of God and serve him day and night in his temple, and he who sits on the throne will shelter them with his presence. 'Never again will they hunger; never again will they thirst. The sun will not beat down on them,' nor any scorching heat. For the Lamb at the center of the throne. He will be their shepherd; he will lead them to springs of living water.' 'And God will wipe away every tear from their eyes.'"

"Caylee is at the throne of the Lord. And He is there with her and she with Him and she is worshiping Him and He is loving her," Parrett said. 
Ahead of Parrett's message, the church watched a video of Dugger singing a song she wrote about God's perfect purpose amid suffering. 
Titled "Hands," the song includes the lyrics: "Making beauty from ashes is what You do best/ So in Your promise I'm waiting and in this I'll rest/ In the hands of a good God/ I know You are a good God/ My suffering is never for nothing."
"As we grieve together, we [do not] grieve as those that do not have hope; we do have hope," Parrett said. "We are ones that have hope, this hope that Caylee reminded us of, this Scripture that she taught from. We do have hope."
According to local news station Fox 4, Dugger was traveling to Texas to visit her nephew when the accident occurred. The cause of the crash is under investigation by the Oklahoma Highway Patrol.
Dugger served as the church's youth director and was also a student at Midwestern Baptist Theological Seminary. She was a graduate of Union University and was planning to graduate in the Spring of 2023 from Midwestern Seminary with her master of theological studies in missions. She was also planning to pursue a master of divinity degree in international church planting following graduation, according to Baptist Press.
As of Monday afternoon, a GoFundMe created for Dugger's funeral cost and other expenses had reached over $18,500 of its $20,000 goal. 
"We have been amazingly encouraged by the messages of so many different people who were personally impacted by Caylee's life," the page reads. 
"From professors who explained that they have never seen someone share the Gospel with fellow students as much as she did, to friends who praised her genuine kindness and love. It is clear that in her 30 years, Caylee made an unbelievable impact on everyone she encountered. We are sad, broken, and hurting. And yet, we have found such peace in knowing that Caylee is in the presence of her Lord and Savior, Jesus Christ — and that her incredible faith has been given sight. Even in the midst of this tremendous sorrow and grief, God has given us joy."
According to Baptist Press, Dugger was an "avid podcaster and aspiring author" who posted often on her blog, "A Girl and Her Adventures," and shared posts regarding her walk with the Lord. 
"I'm a Christian," she wrote in a June 2022 post. "I'm a follower of Jesus who holds the Bible as the infallible Word of God and who believes that I am saved by grace through faith in Christ alone. The Holy Spirit is at work in my life making me more like Jesus every day (even when I fail and mess up, He is still faithful) and at the end of all things, when I'm worshiping the Lamb of God who takes away the sins of the world, the only title that's going to matter is 'Redeemed.'"
In a statement, Midwestern Seminary President Jason Allen remembered Dugger as a "delightful young woman, devoted to seeing others come to faith in Christ."
"Even as we grieve, we grieve not as those without hope. Our hope is in Christ — as was Caylee's,'" he said. 
Karen Allen, wife of President Jason Allen and director of the Midwestern Women's Institute said: "I was deeply saddened to learn this morning of Caylee's tragic car wreck yesterday afternoon. To know Caylee was to love Caylee. Her deep passion for the nations was evident, and I know the ladies in Midwestern Women's Institute will greatly miss her, as will I."
Dugger's church said in a Facebook post that a memorial to celebrate her life will be held Wednesday at First Baptist Church in her hometown of Joelton, Tennessee.