Colorado appeals court rules against Jack Phillips, Masterpiece Cakeshop in trans cake case; baker to appeal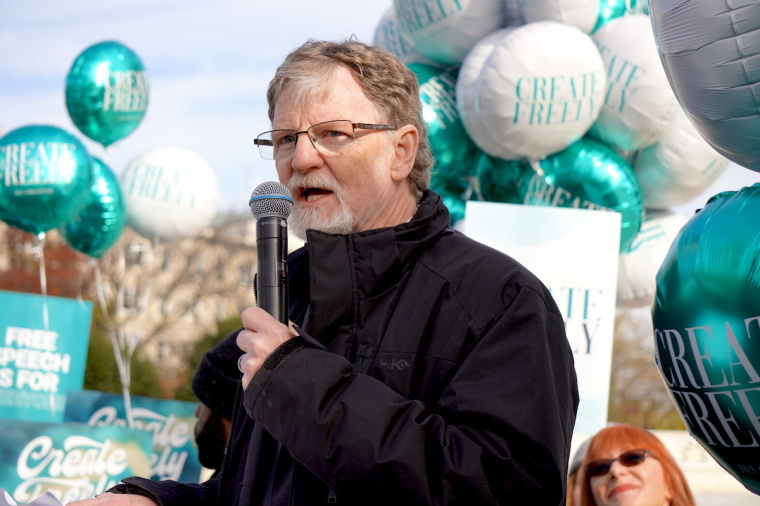 A three-judge panel of the Colorado Court of Appeals has ruled against Christian baker Jack Phillips, having concluded that he was wrong to refuse, on religious grounds, to bake a cake celebrating transgenderism. 
In a decision released Thursday, Judge Timothy Schutz authored the panel's opinion affirming an earlier trial court decision against Phillips, concluding that the baker violated the Colorado Anti-Discrimination Act by not creating a cake to celebrate a person's new trans identity. 
A complaint was lodged against Phillips and Masterpiece Cakeshop after a man who self-identified as a woman and changed his name to Autumn Scardina demanded that the baker create a cake with the colors of the trans flag in pink and blue frosting to celebrate Scardina's self-professed sexual identity. 
"Scardina testified [he] requested a custom pink and blue cake with no message or other design elements. The trial court found that Debra agreed to make that cake but then retracted the commitment once Scardina told her what the cake was for," wrote Schutz.
"It was only after Scardina disclosed that [he] was transgender and intended to use the cake to celebrate both [his] birthday and [his] transition that Masterpiece and Phillips refused to provide the cake. Thus, it was Scardina's transgender status, and [his] desire to use the cake in celebration of that status, that caused Masterpiece and Phillips to refuse to provide the cake."
The appeals court rejected Phillips' claims that he was being forced to convey a message that went against his beliefs because the cake he was asked to make "expressed no message," adding that "not all conduct constitutes speech."
Phillips had previously won a United States Supreme Court case in 2018 that centered on his refusal to bake a wedding cake that celebrated a same-sex marriage in 2012 when same-sex marriage was not legal in Colorado.
The Alliance Defending Freedom, which is representing Phillips, denounced the appeals court's decision and vowed to appeal it, considering part of a broader campaign of harassment against the Christian baker.
"Over a decade ago, Colorado officials began targeting Jack, misusing state law to force him to say things he does not believe. Then an activist attorney continued that crusade. This cruelty must stop," said ADF Senior Counsel Jake Warner, in a statement shared with The Christian Post.
"One need not agree with Jack's views to agree that all Americans should be free to say what they believe, even if the government disagrees with those beliefs."
In 2019, Scardina filed a complaint against Phillips and Masterpiece Cakeshop over their refusal to make a cake celebrating his trans identity.
Although the suit had originally claimed that Phillips violated both CADA and the Colorado Consumer Protection Act, a judge dismissed the latter claim in March 2021.
In June 2021, Denver District Court Judge A. Bruce Jones ruled that Phillips had violated CADA when he refused to make the cake for Scardina, with the court noting that "the analysis would be different if the cake design had been more intricate, artistically involved, or overtly stated a message attributable to Defendants."
"Defendants' expressive conduct argument fails because Defendants presented no evidence that a reasonable observer would attribute any message that was conveyed by the cake to Defendants," continued Jones in his 2021 decision.
He added, "Defendants have failed to carry their burden to show that providing the requested cake constituted any type of symbolic or expressive speech protected by the First Amendment."