Franklin Graham warns Biden: 'Omitting God is a dangerous thing'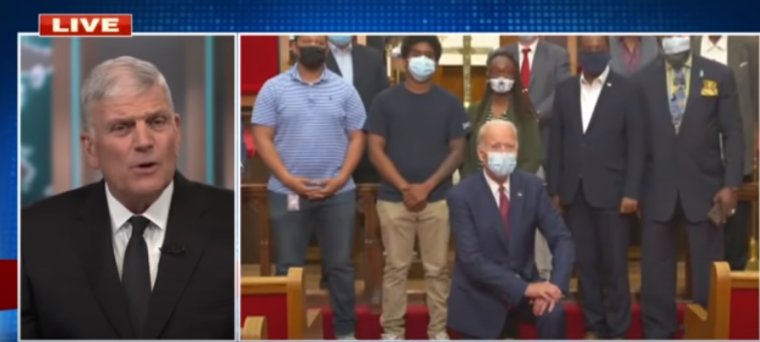 Prominent evangelist Franklin Graham took to Facebook Thursday to criticize President Joe Biden's failure to include the word "God" in his presidential proclamation recognizing Thursday's National Day of Prayer.
"I was deeply saddened to read that President Biden is the first president to omit the word 'God' in his proclamation," wrote the 68-year-old son of legendary evangelist Billy Graham, who called on Congress and President Harry Truman in 1952 to issue the first National Day of Prayer proclamation. 
"It is hard to believe we have come this far."
Graham, who heads the Billy Graham Evangelistic Association, warned that "omitting God is a dangerous thing."
"He is who we as individuals and as a nation need to call on for help. He created us and made salvation possible for us through faith in His Son, Jesus Christ. Prayers to anyone or anything else are to no avail."
Biden's omission of any reference to a deity led to an outcry among some notable Christian conservatives. 
"[W]e need to call on God, not just some generic Gods or some power in the air, but on God, Himself, the Creator who made and created this earth and who sent his son Jesus Christ from heaven to this earth, to save mankind from sin by dying on a cross and God raised him to life," Graham asserted on "Fox News Primetime" Thursday.
According to Graham, "There's no one else to pray to except to God."
Graham contends that Biden did not craft the proclamation, suggesting that it was a White House staffer who wrote the message and may not have "even ran it by him." 
After the televangelist indicated a desire to give the president "the benefit of the doubt" by claiming that "I don't think Joe Biden would have approved that one," host Pete Hegseth asked if Graham had a message for "people who doubt the power of prayer."
"God answers prayer. He hears prayer. He listens to prayer. But we've got to approach God in the right way," Graham replied. "We have to confess our sins and ask for His forgiveness and … not go to Him with … dirty hands, so to speak, but with a clean heart."
As Hegseth noted, "the tradition of a National Day of Prayer dates to 1775, when the Second Continental Congress set aside a day for Americans to pray to be ever under the care and protection of a kind providence as they began the struggle for independence." 
Presidents have issued proclamations in honor of the National Day of Prayer since 1952. Since 1988, the National Day of Prayer has been observed on the first Thursday in May.
In contrast to Biden's proclamation, last year's National Day of Prayer proclamation by then-President Donald Trump featured 11 references to God. Former President Barack Obama's final National Day of Prayer proclamation in 2016 included two references to God.
Thursday was not the first time Graham has spoken out against an action taken by the Biden administration or the Democratic-controlled 117th United States Congress. 
Last month, he took to Facebook to criticize the Biden administration's State Department for authorizing U.S. embassies around the world to fly the LGBT pride flag alongside the American flag.
As the 117th Congress began in January, Graham accused the Democratic majority of "shaking a fist in the Creator's face" by adopting rules eliminating the use of "gendered" terms such as "mother and father."
Over the past four years, Graham is among many conservative evangelical leaders who informally engaged with the Trump White House. 
He compared Republicans who voted to impeach the former president following the U.S. Capitol riots to Judas. Prior to the election, Graham warned that "attacks on Christian businesses" would intensify should Biden win.