Damar Hamlin says on-field collapse was an 'example of God using me as a vessel'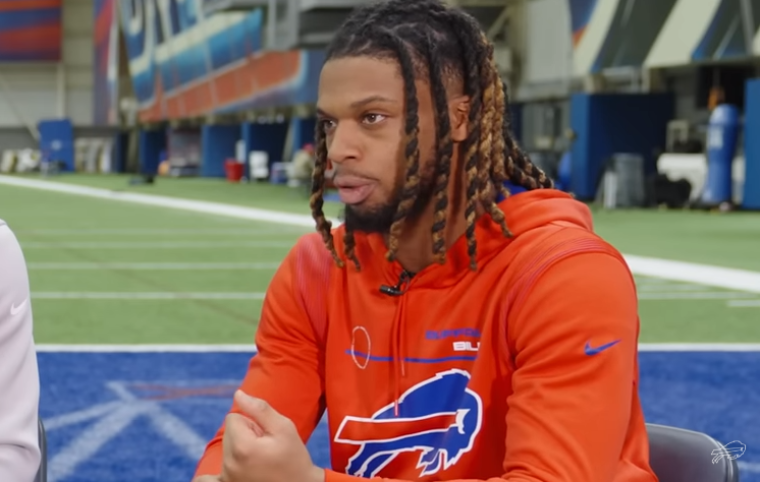 In his first on-camera remarks since he collapsed on the field during a game against the Cincinnati Bengals nearly a month ago, Buffalo Bills football player Damar Hamlin is insisting that God was using him as a "vessel" to help the needy children he hopes to provide for at his charitable foundation. 
On Saturday, the Buffalo Bills posted a video from Damar Hamlin, the team's safety who collapsed on the field after suffering cardiac arrest during a Jan. 2 match against the Cincinnati Bengals, on its official Twitter account. Hamlin's message marks the first time he has addressed his health scare on camera.
"What happened to me on 'Monday Night Football,' it was a direct example of God using me as a vessel to share my passion and my love directly from my heart with the entire world," he said. "Now, I'm able to give it back to kids and communities all across the world who need it the most and that's always been my dream, that's always been what I stood for and what I will continue to stand for." 
Hamlin's statement reflects the fact that his charity, the Chasing M's Foundation, has raised more than $9 million in the weeks following the football player's collapse. Hamlin elaborated on the purpose of his charitable work in a statement posted on a GoFundMe page.
"As I embark on my journey to the NFL, I will never forget where I come from and I am committed to using my platform to positively impact the community that raised me," he explained, referring to his hometown of McKees Rocks, Pennsylvania. "I created the Chasing M's Foundation as a vehicle that will allow me to deliver that impact, and the first program is the 2020 Community Toy Drive."
Hamlin billed his charity's first major effort as a quest to "positively impact children who have been hit hardest by the [coronavirus] pandemic," adding "100% of the funds raised will go toward the purchase of toys for kids in need." An update to the fundraiser posted after he collapsed during the Bengals-Bills match added that "the foundation supports toy drives, back-to-school drives, kids camps, and more."
A screenshot of the fundraiser's webpage as it appeared on Jan. 3, the day after Hamlin suffered a medical emergency on the field, showed that it had raised $4,850 out of a $2,500 goal. The massive explosion in donations indicates the level of support the charitable effort received following Hamlin's medical scare. 
In his video, Hamlin thanked the Bills' training, athletic and medical staff, the staff at the University of Cincinnati Medical Center and Buffalo General Hospital, his family and friends as well as Bills fans for their support throughout his recovery. He also thanked his teammates, whom he referred to as his brothers, for making "it a priority to lift me up spiritually, mentally and in every way possible."
Hamlin concluded his video by declaring "this is just the beginning of the impact I wanted to have on the world and with God's guidance, I will continue to do wonderful and great things."
While Hamlin's video marked the first time that he weighed in on his health scare on camera, he previously sent out tweets expressing gratitude for the prayers and support he had received during his recovery.
"The love is felt, & extremely real. No matter race or religion everybody coming together in prayer!" he exclaimed in a Jan. 7 tweet. The following day, Hamlin shared a video of him heading onto the field during a previous football game, writing that there was nothing he wanted more than "to be running out of that tunnel with my brothers."
However, he acknowledged that "God is using me in a different way today."