11-Year-Old Boy Dies in Blizzard Sheltering in Car From Winter Storm Nemo (VIDEO)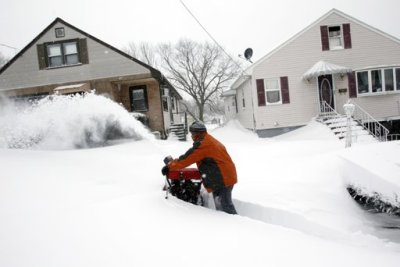 An 11-year-old boy has died in the blizzard slamming the East Coast this weekend, after becoming overcome by carbon monoxide poisoning. The tragic incident took place while the boy waited in the family's car as his father shoveled snow outside in the winter storm.
It has been reported that the 11-year-old's father was outside trying to dig the family's car out of a snow bank in their Dorchester neighborhood, after Boston was hit particularly hard by Winter Storm Nemo this weekend.
The boy was initially helping his father outside too, according to Boston Fire Department spokesman, Steve MacDonald. However, the elements proved too cold for the young boy, so his father started the car's engine and the boy got inside to take shelter.
Unknown to the father, the car's exhaust pipe was covered over by the snow bank and was blocking the fumes from escaping, causing the car to fill up with the toxic fumes, according to AP.
It was also reported that the father later went into respiratory arrest, and both he and his son were rushed to Boston Medical Center, where the father was given emergency treatment. However, tragically the 11-year-old boy was declared dead soon after arriving at the hospital.
No names have been released in the incident, but the child's death reportedly lifted the death toll from Winter Storm Nemo to seven, according to Fox News.
Nemo has brought heavy snowfall and strong winds, mixing to create blizzard conditions, and has seen various areas hit with up to two to three feet of snow.
Blizzard warnings were put in effect on Friday for much of the coastal regions of the north-eastern U.S., with people being warned to stock up on food and other supplies. Nemo was expected to affect as many as 25 million people in the region.
"This is a storm of major proportions," Boston Mayor Thomas Menino announced to his city. "Stay off the roads. Stay home."
According to The Associated Press hundreds of people were stuck in their homes on Saturday morning after snow piled up so high against their front doors they were unable to open them.
In Maine, one town called Gorham was reportedly buried under nearly 80 cm (32 inches) of snow. Town council chairman Philip Gagnon explained on Saturday that many roads would not be cleared until Sunday or Monday, according to Reuters. he said, "It's going to probably take some time because they can only do so much before we can rest them."
All three major airports in the New York City area canceled flights on Saturday and train operator Amtrak suspended nearly all its services north of the city.
Here is a video report of the tragic incident: