2013 Inauguration Live Stream: How to Watch Online President Obama's Inauguration for Free
President Obama's public Inauguration will take place on Monday Jan. 21, 2013 and is set to attract millions of viewers across America and the world.
According to reports 58 percent of Americans will watch some part of the Presidential Inaugural Day coverage, with many looking to watch the day's events in their entirety.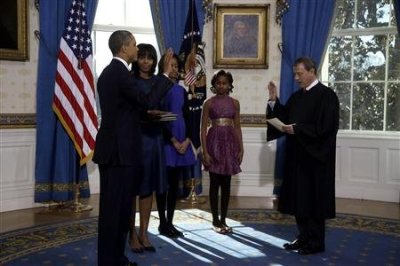 The events can be watched on TV or watched online through live stream right here on The Christian Post via the player below.
Below are also the details how to watch other coverage and what time events are taking place.
The official swearing in of President Obama for his second term took place privately on Sunday in the Blue Room of the White House and was only open to White House press.
According to reports Beyonce, James Taylor, and Kelly Clarkson will be part of the celebrations.
Here is a list of all the inaugural events on Monday and Tuesday and where to watch them:
MONDAY, JANUARY 21, 2013:
Ceremonial Swearing-In -11:30 a.m. ET
President Barack Obama will be given the oath of office for the second time by Chief Justice John Roberts on the Capitol steps. The event is open to the public with ticketed seating or free standing.
Inaugural Parade - 2:35 p.m. ET
An Inaugural Luncheon with Congress in the Capitol will take place, after which, President Obama, Vice President Joe Biden and their wives will lead the parade to the White House.
The Commander-in-Chief's Inaugural Ball - 6:00 p.m. ET
Held at the Washington Convention Center.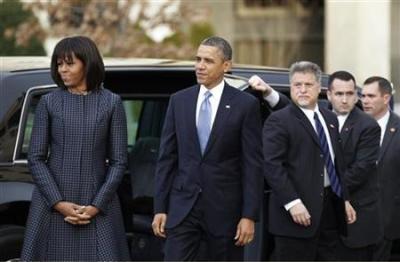 TUESDAY, JANUARY 22, 2013:
National Prayer Service - 10:30 a.m. ET
President Obama, Vice President Biden and their spouses will attend a prayer service at Washington National Cathedral.
NBC Washington / Channel 4 will broadcast all the events following the private Swearing-in ceremony on Sunday.
CNN's Soledad O'Brien will cover all the day's events, and Anderson Cooper will be live from the Mall, and Burnett will broadcast live from the balls at 6 p.m.
Fox News anchors Megyn Kelly and Bret Brier will host coverage for most of Sunday and Monday.
ABC News will cover on TV and also on ABCNews.com, ABC's mobile apps, Yahoo!, and radio.
MSNBC TV Inauguration Day coverage on Monday will stream live from 10:00 a.m. to 4:00 p.m. MSNBC online - tv.msnbc.com, facebook/msnbc, twitter.com/msnbc - will also provide coverage on Inauguration Day.
CBS' Scott Pelley will anchor Inauguration coverage beginning at 10 a.m. Monday.
The Presidential Inauguration 2013 can be watched on the video player below:
The 57th Presidential Inauguration