2017 Mercedes-Benz SL News: New Photos of Convertible Leaked Ahead of Auto Show Debut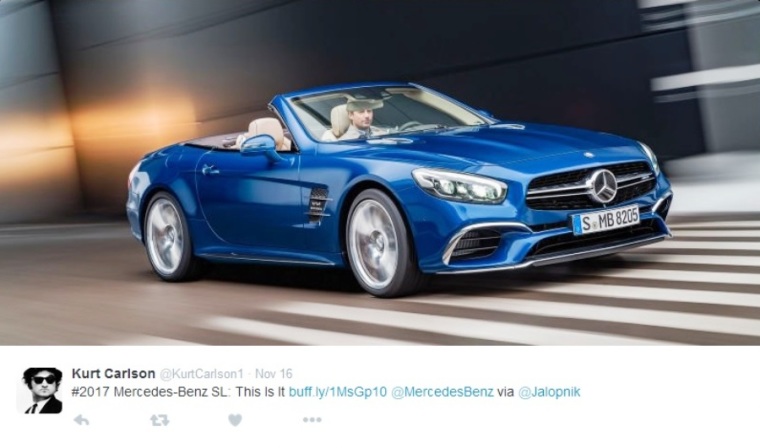 High resolution images of the new 2017 Mercedes-Benz SL have leaked online a week ahead of its debut.
German automobile manufacturer Mercedes-Benz's latest luxury model, the 2017 Mercedez-Benz SL, has been spotted online after several images of the upcoming roadster appeared in European press websites just before its official unveiling this coming Friday at the Los Angeles Auto Show.
Several days before the leak, Mercedes-Benz released a teaser featuring the new facelift of its updated SL model, showing a new front-end design that appeared to have been cast in the same mold as the Mercedes-AMG GT.
Based on the leaked images, the front of the model features a larger and updated diamond radiator grille.
The redesign features pronouncedly rounded headlamp clusters, more noticeable vents, and the company's signature three-pointed star bracketed by horizontal wings in a brand new alloy wheel configuration in a black finish.
Apart from the new bonnet and front bumper, the Mercedes-Benz SL appears to have made use of a large amount of chrome, as well as bigger front air intakes.
The new grille and bumper also carries running daytime LED lights, which Mercedes-Benz is now fitting in its models as a standard feature, as well as high-performance Continental tires.
Inside the Mercedes-Benz SL, a state-of-the-art infotainment system is teamed with an updated gear knob, and a steering wheel with a new flat-bottom design.
At the rear of the roadster, the SL features a new bumper, red lenses in its revised tail lamps, and a boot lid spoiler.
While the complete technical specifications of the upcoming model have yet to be released, it is rumored the Mercedes-Benz SL will feature refreshed powertrain options for increased power with an improved economy.
Speculations have been running rampant the Mercedes-Benz SL will still be carrying the same engine range as previous models, which may point to either an SL400 or SL500, or an AMG SL63 or AMG SL65.
The Mercedes-Benz SL is expected to make its debut at the LA Auto Show that takes place at Los Angeles Convention Center from November 20 to 29.