Acer Windows 10 Jade Primo 2 Release Date News: Coming in 2016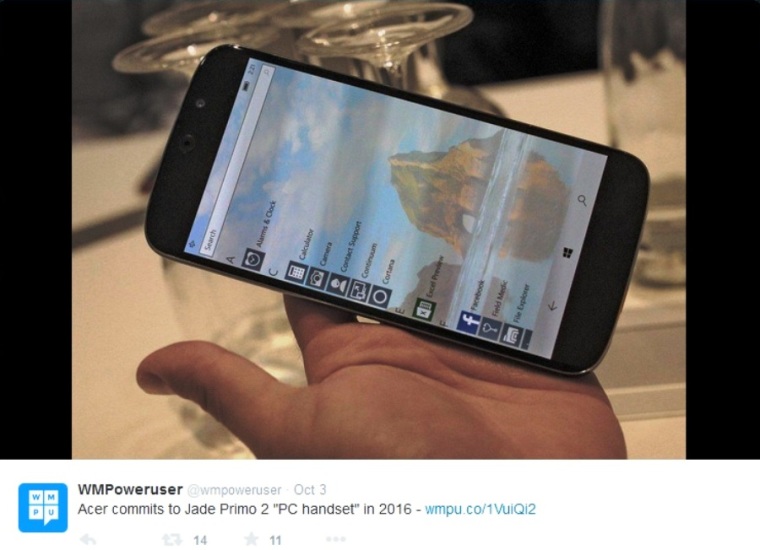 Acer has reaffirmed its commitment to release a Windows 10 smartphone called the Jade Primo 2 which is expected to arrive in 2016.
During last month's IFA 2015 in Berlin, Chinese tech manufacturer, Acer announced it would be launching a smartphone with the Windows 10 operating system and Continuum, a software tool that can turn a Windows 10 phone into a PC, a promise the company has recently confirmed with its announcement of the Jade Primo 2, which is scheduled to arrive next year.
During the IFA, Acer revealed the first Jade Primo, its Windows 10 flagship with Microsoft Continuum support. While not a lot of information was revealed about the device, the company hinted it would be available by the end of the year.
Even before the first generation handset has hit the market, Acer announced it would be upping the ante by introducing a second Windows 10 smartphone with Continuum, which it plans to launch together with another flagship, the Predator 6 in 2016.
The Jade Primo is reportedly geared to operate as a PC handset, with a 5.5-inch AMOLED 1080p touchscreen display over a Qualcomm Snapdragon 808 chipset. It is expected to feature a 21MP rear camera and an 8MP front shooter.
With Continuum for Phones, the Jade Primo will allow users to connect their handset to a keyboard, monitor and mouse, and use their smartphone as a PC. The demonstration was initially shown during an IFA press conference, with Acer reiterating their promise they will push through with a release next year.
This means the Jade Primo and the Jade Primo 2 may ship together with appropriate accessories to turn it into a PC, including a keyboard, a wireless mouse, and a dock to connect them all together.
Microsoft is gearing up to launch Windows 10 Mobile during its big hardware event in New York on Tuesday, October 6, preempting Acer with its own Lumia 950 and Lumia 950 XL flagships with Windows 10 and Continuum support.