Al Roker Yells at Obama During Inauguration, Gets First 'Interview' (VIDEO)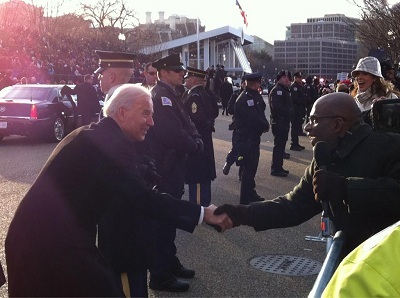 NBC's resident weatherman Al Roker sparked a media frenzy on Monday, Jan. 21 when he made a comic attempt at getting the attention of President Barack Obama and Vice President Joe Biden during the inaugural parade in Washington, D.C.
NBC has minted Roker's laughable interaction with Obama as the "first interview" with the newly inaugurated president.
Roker was standing on the sidelines of the parade route, speaking to NBC host Brian Williams live, when President Obama approached, walking down the parade route as he waved to hundreds of fans with First Lady Michelle Obama at his side.
Although Roker confided in Williams that he believed his attempt to reach Obama would be futile, as the president approached, Roker began to repeatedly yell at the top of his lungs, "Mr. President! Mr. President!"
To the surprise of Williams back in the studio, Obama then turned, and Roker asked him what he thought of the weather.
"It's great!" Obama responded, before continuing on his parade walk-about.
"There you have it, the first interview with the newly-inaugurated 44th president of the United States," quipped Williams.
Roker successfully attempted to get Vice President Joe Biden's attention in a similar way, with the VP running over to shake Roker's hand before resuming his place on the parade route.
Those viewing the live parade procession on NBC took to Twitter to express their reaction to Roker's unorthodox reporting style, including at one point when he became so excited that he dropped his mic.
"Only Al Roker could get both Obama and Biden to stop along parade route!" tweeted Andrea Mitchell.
Roker has recently been in the spotlight after he provided a candid interview with "Dateline NBC," saying that years earlier he had "pooped his pants" when visiting the White House following his gastric bypass surgery.
Monday's inauguration ceremony ushered in Obama's second term in office, and included an array of events and musical performances, including pop star Beyonce singing the national anthem.
The First Couple wrapped up their festive inauguration celebration by attending two balls Monday evening at the Washington Convention Center in D.C.
Al Roker's first Interview with Obama and Biden at the Inauguration