Brooklyn Tabernacle Choir Sings 'Battle Hymn of the Republic' at President's Inauguration
At President Barack Obama's second inauguration ceremony on Monday, over 300 members of the Brooklyn Tabernacle Choir sang "Battle Hymn of the Republic," a song written by a great American abolitionist which connects the End Times to the American Civil War.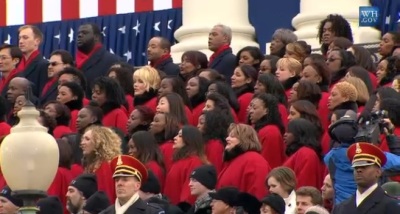 The song, which carries the memorable chorus of "Glory, Glory Hallelujah," was originally composed in 1861 by prominent American abolitionist Julia Ward Howe, who was reportedly inspired to write the song after meeting U.S. President Abraham Lincoln, and has become a popular American patriotic song.
The lyrics of the hymn link God's judgment of the wicked in the End Times, as found in the New Testament of the Bible, with the American Civil War, and proved fitting for Monday's inauguration ceremony as it falls on Martin Luther King, Jr. Day and closely after the 150the anniversary of the Emancipation Proclamation.
Notable lyrics of the song include those which relate to the Second Coming of Jesus Christ:
"I have seen Him in the watch fires of a hundred circling camps;They have builded Him an altar in the evening dews and damps; I can read His righteous sentence by the dim and flaring lamps; His day is marching on."
Additionally, the hymn goes on to praise the infinite power of God:
"He is coming like the glory of the morning on the wave; He is wisdom to the mighty; He is honor to the brave; So the world shall be His footstool, and the soul of wrong His slave, Our God is marching on."
Over 300 singers, led vocally by Alicia Olatuja, who has performed at Carnegie Hall, performed a new rendition of the hymn at Monday's public inauguration ceremony.
As Brooklyn Tabernacle spokesperson Jeremy Castro previously told The Christian Post, the hymn "speaks of the truths of which this country's been founded on, just the opportunities that this country, touched by the hand of God, has given so many people of all different backgrounds. So the theme of the song is very powerful and very appropriate."
The choir consists of over 300 singers from all walks of life who attend Brooklyn Tabernacle in the borough of Brooklyn in New York City. The nondenominational church, founded in 1973, is led by Pastor Jim Cymbala and is home to about 10,000 members.
The six-time Grammy Award-winning choir has previously performed at Madison Square Garden and the Radio City Music Hall. The Brooklyn Tabernacle Choir is also a seven-time Dove Award-winning choir and has sold over four million albums.
Watch the Brooklyn Tabernacle Choir perform "Battle Hymn of the Republic" at the president's inauguration: