Alanis Morissette Reveals Struggle With Postpartum Depression
Alanis Morissette has revealed that she struggled with postpartum depression after the birth of her son, Ever. The singer spoke with Entertainment Tonight in the hope of raising awareness of the disorder and helping others.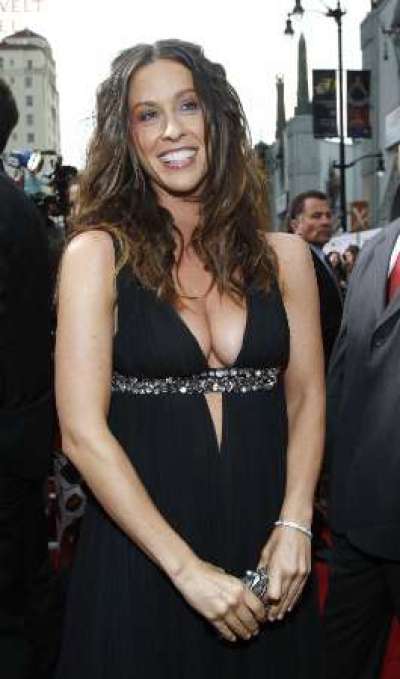 "I just thought it was a swampy character, if I soldiered it out, that it would go away," Morissette said. She gave birth to Ever in 2010 and struggled with depression almost immediately after he was born.
"I came to realize that the longer I waited, the more intense it would become," she added. Morissette sought out treatment and has recovered from her bout with depression; she is now using her celebrity status to try and help others who may be experiencing symptoms.
"If there is any goal in me talking about it, it would be to eradicate the shame around it. It's just what happens sometimes and, for me, I just waited way too long to reach out for help," she said.
Morissette is not the only celeb to struggle with postpartum depression. In 2005, Brooke Shields famously revealed that she had battled thoughts of suicide, an inability to respond to her baby's needs and a delayed sense of bonding with her newborn. She told her story on multiple outlets, including "Oprah" and in a personal memoir, "Down Came the Rain."
Shields came under fire from Tom Cruise, who criticized Shields' decision to take anti-depressants. The two engaged in a war of the words, with Shields defending her choice and telling reporters, "Cruise should stick to fighting aliens and let mothers decide the best way to treat postpartum depression."
Cruise later apologized, and the two repaired their relationship.
It is reported that 10 to 15 percent of women will suffer from postpartum mood disorders, which can include depression, anxiety, OCD and psychosis.
"Postpartum depression is far more common than gestational diabetes. PPD is also more common than preterm labor, low birth weight, pre-eclampsia and high blood pressure; in other words, PPD is the most common complication associated with pregnancy and childbirth," Dr. Ruta Nonacs told postpartumprogress.com.
Alanis Morissette Interview on Motherhood 2012