Anderson Silva UFC Return This Spring: Superfight Being Lined Up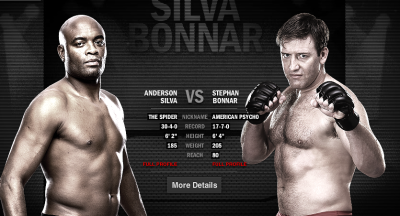 Anderson SIlva will make his UFC comeback this spring, and rumors are now swirling about who his comeback fight will be against, and where it will take place.
Anderson Silva is a fan favorite and the UFC middleweight champion. It was rumored that he would not return to the ring until late in 2013, however, earlier this week on Thursday UFC President Dana White indicated that Silva, widely considered the best pound-for-pound fighter in UFC, will be coming back sooner.
White said, "He wants to fight this spring. We'll have a fight for him this spring."
White has confirmed that Silva has been offered an eight fight contract deal, however, negotiations are still taking place. It is believed that Silva wants the UFC to offer him a 10 fight deal instead.
However, most analysts believe it's only a matter of time until the small details are ironed out. Both Silva and the UFC need one another; it is unlikely he would be able to earn as much anywhere else, and the UFC see Silva as one of its greatest promotional tools for its brand. Both sides will be eager to settle things and move forward.
It is already being rumored about when some superfights can be lined up. However, even though it is likely Silva will face people like Georges St-Pierre and Jon Jones at some point, they are unlikely to be lined up for his first battle this spring, as they already have fights lined up themselves.
Some would love to see Vitor Belfort step back into the ring with Silva. Belfort recently knocked down Michael Lisping, but the fact that he was knocked out by Silva just two years ago could work against him. Belfort is likely to need to build up a few more high profile wins before he would be considered as a top draw for Silva again.