Baltimore Ravens vs Oakland Raiders Live Stream (CBS): Watch NFL Football 2017 Online
The Baltimore Ravens and the Oakland Raiders will meet at the O.co Coliseum in Oakland on Sunday in one of three late afternoon starts in the NFL 2017 regular season for Week 5. The game has a scheduled start time of 4.05 p.m. ET and can be watched on TV on the CBS network, or online through live stream (details below).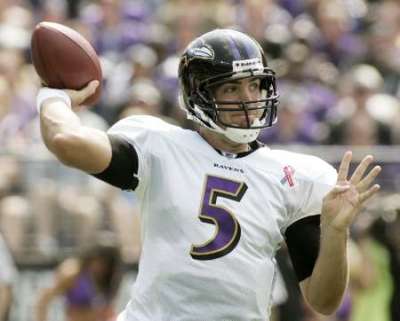 Both teams are on 2-2 coming into today's Week 5 clash, and both will know only a win today will be enough to keep them in the hunt in their respective divisions.
In the AFC North, the Ravens 2-2 is good enough for second post right now, with the Pittsburgh Steelers out front on 3-1. The Cincinnati Bengals are back on 1-3, and the Cleveland Browns are struggling badly on 0-4.
In the AFC West the Oakland Raiders are stuck in third, above the lowly 0-4 LA Chargers, but falling well behind the 3-1 Denver Broncos, and the perfect 4-0 Kansas City Chiefs.
Today's quarterback match up will see the Ravens' Joe Flacco go up against the Raiders' Derek Carr.
Flacco is 73 of 118 for 601 yards and four touchdowns, where as Carr is 74 of 109 for 753 yards and 7 touchdowns.
Earlier this week on NFL Thursday Night Football, the New England Patriots won a tight game against the Tampa Bay Buccaneers to get themselves back to a winning record.
Things were close, however, and the Buccaneers were pushing in the fourth, but ultimately came up short to ensure the Patriots would claim a confidence boosting road win and move to 3-2.
The game came down to the final play, but once the dust settles the Patriots will be satisfied as a win is a win, and the game also saw quarterback Tom Brady tie Peyton Manning and Brett Favre for the most season wins by a quarterback with 186 victories.
Brady had a tough night, but still came up with some good stats. Despite throwing an interception, and losing a fumble, as well as getting hit all night, he managed to complete 30 of 40 passes for 303 yards and a touchdown.
As for the Buccaneers they will be disappointed having fallen just short of completing their comeback. Had quarterback Jameis Winston's final pass to OJ Howard been on target they would have stolen the win from the Patriots. Winston finished the game with 334 yards, completing 26 throws from 46 attempts.
The Buccaneers will also be looking at kicker Nick Folk, who missed three field goals, as a reason they came up short.
Meanwhile, today's big game between the Baltimore Ravens and the Oakland Raiders has a scheduled start time of 4.05 p.m. ET and can be watched on TV on the CBS network, or online through live stream by clicking here.