Bethesda E3 Predictions: New 'The Elder Scrolls' Legends Expansion And New AAA Title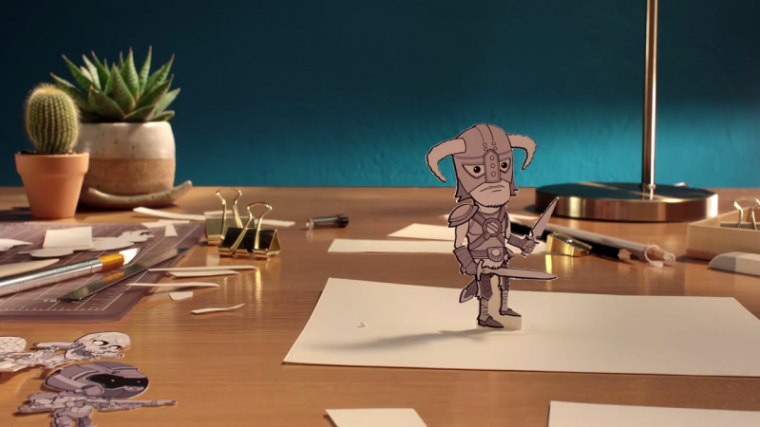 There's still three more months to go before this year's Electronic Entertainment Expo kicks off. However, Bethesda is already winding up for something big this coming June and they just released a new trailer for it.
While thecutouts and special effects are certainly eye-catching, it's the final bit that has got gamers running wild. The developer is creating something special and fans will get to see it this June 10.
The teaser didn't give much detail however it's expected that this "something special" is a new AAA title. This is mainly because Bethesda previously stated that they are working on a new project that's "bigger than anything they've done before."
While it's still unclear if this is the much-wished for "Fallout: New Vegas" spinoff or an entirely new IP (intellectual property), what is clear is that it will have connective tissue with other Bethesda games.
It's also clear that this won't be anything close to "The Elder Scrolls 6" with Bethesda having already shot down fans' hopes of an early release. That being said, there's still a chance for the studio to announce something regarding the much awaited action role-playing title.
Aside from a new IP, Bethesda is also expected to release a new expansion for its online game "The Elder Scrolls: Online." The same can be said for its collectible card game "The Elder Scrolls: Legends" which is currently available on mobile devices as well as on PC.
There's also the slew of downloadable content for their existing games such as "Wolfenstein 2: The New Colossus" and "The Evil Within 2." One possible exception could be "Prey" as despite having touted an expansion following its release, the game's disappointing sales could have swayed the publisher from making further investment into the title.
This year's E3 is set to kick off on June 13 at the Los Angeles Convention Center in Los Angeles, California.