BlackBerry Venice Release Date Rumors: Specs and Price Point
Rumors have been surfacing about the BlackBerry Venice, the brand's first Android smartphone's specs, release date and price.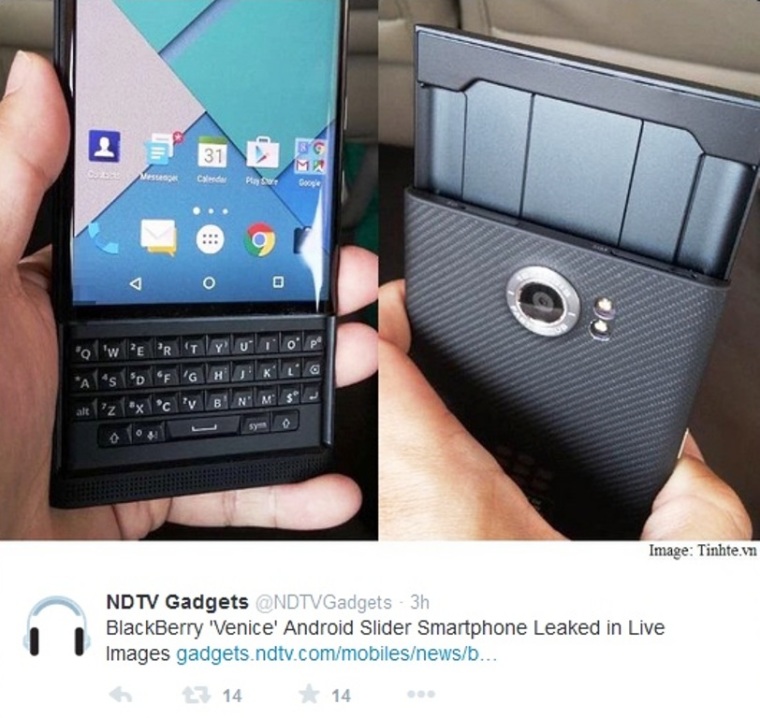 Back in August, several leaked images of the BlackBerry Venice, the Canadian smartphone manufacturer's first Android device, circulated online, featuring the handset's physical QWERTY slider keyboard, considered a rarity on an Android smartphone.
The BlackBerry Venice's keyboard's slider also works to keep it out of the way for users who prefer to operate its touchscreen display instead.
Reports have emerged the handset will carry a 1.8GHz hexa-core Snapdragon 808 SoC supported by 3GB of RAM and a microSD slot for expanded storage. Instead of running an in-house OS, it will be powered by Android 6.0 Marshmallow out of the box, the first ever BlackBerry device to do so. There has also been some speculation another BlackBerry Venice iteration will be released running the BlackBerry 10 OS.
Based on a hands-on video of the device, the phone will come with a flat display, curtailing rumors of curved edges. The Venice's power button is located at the left side of the phone, while the back features a textured pattern.
The BlackBerry Venice will be equipped with a 5.4-inch curved QHD screen with a 2560 x 1440p resolution and a high-res Super AMOLED display, with reports it will feature an 18MP main camera at the back. Engraving around the main camera lens reads "OIS" and "Fast Focus," pointing towards optical image stabilization and speedy auto-focus.
While it will also come with a front camera, there has been no information released as to its pixel and sensor specs, although it has been speculated the Venice will be carrying a 5MP front snapper.
There has been no news about its battery, either, but leaked images show a 3.5mm headset jack as among the handset's many features.
According to rumors, the BlackBerry Venice, which is touted to come with high-end specs, will be released in the market in November. There is no definite price yet for this phone but judging from the price the BlackBerry Passport launched at, which is at $599, the price point for the BlackBerry Venice would probably be the same.