Colts Bald Cheerleaders Combat Leukemia
Two cheerleaders for the Indianapolis Colts have shaved their long hair in honor of the teams' coach who was diagnosed with leukemia.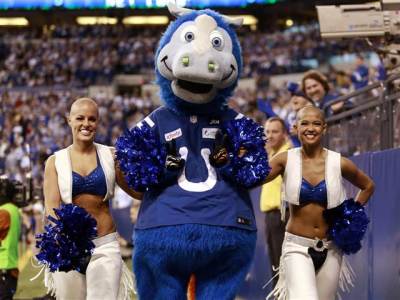 Megan M. and Crystal Ann B. raised over $20,000 for leukemia research after being inspired by coach Chuck Pagano's battle against cancer.
On Sunday the cheerleaders, whose names have been partially withheld due to the team's policy, allowed Indy's NFL mascot, Blue, to shave their heads in front of the crowd at Lucas Oil Stadium. Although he has been on leave, Coach Pagano made a surprise visit to the stadium for the special event.
After having their heads shaved between the third and fourth quarters, Megan and Crystal Ann returned to their duties on the sidelines during the Colts' 20-13 win against the Buffalo Bills.
The haircuts came just weeks after the team's mascot directed a challenge to the cheerleading team via Twitter asking them to help support Coach Pagano in his battle against the disease. Megan agreed to lose her hair if Blue could raise $10,000 for cancer by Nov. 25. Through donations by fans, within weeks, the CHUCKSTRONG fund had garnered more than $22,000.
"I've had family members and mentors [with cancer] and I volunteer at a local children's hospital and met little girls who lost their hair and saw the bravery that they possess," explained Megan while on "Good Morning America" on Monday.
"It was just something that I wanted to do to help reach others," she added.
While Megan was the only cheerleader to accept Blue's challenge, Crystal Ann joined her. The pair held hands while they each went under the razor on Sunday.
"The fans were so supportive and just cheering for me the whole entire time and my captain was really great," Megan added while on "GMA." "She tried to call a lot of dances that did not involve a lot of hair whipping around to make me feel more comfortable when I was getting used to it."