Cotto Vs. Canelo News: Jay-Z and Oscar De La Hoya Have $100K Bet on Who Will Win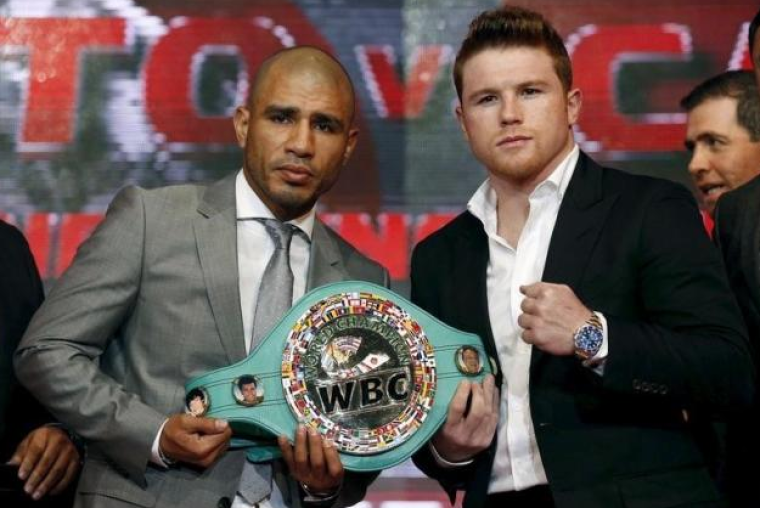 Jay-Z and Oscar De La Hoya have laid down a $100,000 bet on the upcoming Cotto versus Canelo fight this coming Saturday.
Golden Boy Productions promoter and CEO Oscar De La Hoya, who represents Mexican fighter Saul "Canelo" Alvarez, has placed a friendly wager over the outcome of the November 21 match against Puerto Rican professional boxer Miguel Cotto, represented by hip-hop artist and music mogul Jay-Z's Roc Nation Sports.
The $100,000 bet hangs on which of the two fighters will come out on top in the HBO pay-per-view event to be held at The Mandalay Bay in Las Vegas, with the losing bettor donating the agreed upon amount to the winner's charity of choice.
An official press release has already made its rounds in the media over the amicable wager that will hinge on whether Cotto or Canelo wins the middleweight world championship bout less than seven days away.
The bet came to fruition after Jay-Z and De La Hoya paid their respective visits to Cotto's and Canelo's camps just prior to fight week, announcing they were confident in their respective fighters' abilities to win the match.
Jay-Z and De La Hoya then made the decision to place a $100,000 bet, which the losing bettor was to donate to a philanthropic organization of the winner's choice. Should Cotto and Jay-Z win, De La Hoya will be making a donation to the Shawn Carter Foundation, and if Canelo and De La Hoya win, Jay-Z will be placing the amount down for the former Olympic boxer and Hall of Famer's favorite charity, the cancer unit at the White Memorial Medical Center in Los Angeles.
Based on the betting odds at sports booker website, Vegas Insider, Canelo trumps the odds with a -300 score over underdog Cotto's +235.
Saul "Canelo" Alvarez has so far had 45 wins and 1 loss, winning his last three fights against Alfredo Angulo, Erislandy Lara and James Kirkland. Miguel Cotto, who has 40 wins and 4 losses, has also won his last three bouts against Delvin Rodriguez, Sergio Martinez and Daniel Geale.