Cyber Monday 2012 Deals: Best Bargains at Walmart, Best Buy, Target, and Amazon
Cyber Monday 2012 Deals: Best Bargains at Walmart, Best Buy, Target, and Amazon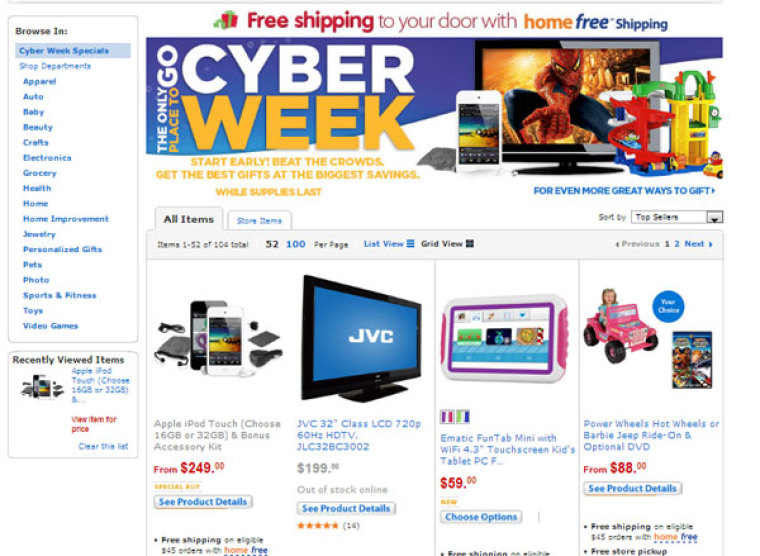 Cyber Monday deals are vying for your attention everywhere you turn, so what are some of the best shopping deals for Cyber Monday? Here are some highlights of bargains at Walmart, Best Buy, Target and Amazon, along with some handy app and websites to help you cut down the prices even more by alerting you to hot deals, collecting coupons for you, and comparing prices between thousands of online and offline retailers with the scan of a barcode.
Let's begin with the perennial favorite Best Buy. The website CyberMonday.com highlights Best Buy's printer deals as a good Cyber Monday bargain. The HP-Deskjet 3520 Wireless All-In-One Printer is on sale for only $49.99, down from $99.99. Plus, you get free shipping on this item. Check out more Best Buy printer deals by clicking here.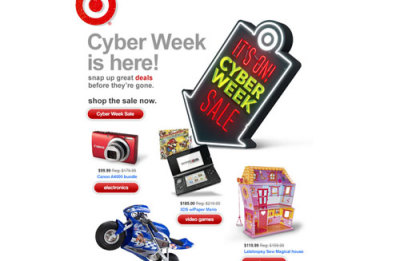 Meanwhile, slickdeals.net listed Best Buy's Klipsch ProMedia THX Certified 2.1 Computer Speaker System on sale for $99 + Free Shipping, and Dell Inspiron l15-909BK Laptop on sale for $249.99 + $25 Savings Code when you select in-store pick up as good deals.
For Walmart, the Nintendo Wii Console (White) is on sale for $89 + Free Shipping, the 4GB Xbox 360 Console (White) w/ Skylanders Spyro's Adventure Starter Pack is $149 + free shipping, and the Plantronics Voyager PRO Bluetooth Headset is on sale for $39 with free in-store pick up.
Now we turn to Walmart's competitor: Target. The TomTom 5'' Portable Bluetooth GPS Navigator is on sale for $149.99, down from $279.95 – a whopping 46 percent saving. Meanwhile the Canon SX150 14.1MP Digital Camera with 12x Optical Zoom – Black is now selling online for $99.99, down from $199.99 – a 50 percent savings.
And lastly Amazon has some hot bargains that slickdeals.com found: the 10-piece Circulon Infinite Hard Anodized Nonstick Cookware Set is $140 + Free Shipping; the Rocky The Undisputed Collection: Rocky, Rocky II, Rocky III, Rocky IV, Rocky V, and Rocky Balboa (Blu-ray) is $20; and $20 off of $50 or more for Victorinox Swiss Army Knife Products: Classic Pocket Knife.
Here are some websites that can provide you with the tools to hunt down the best bargain on Cyber Monday:
Dealnews.com
Cybermonday.com
Slickdeals.net
Redlaser.com
Couponcabin.com
Dealcatcher.com