'Didn't I Say to Make My Abilities Average in the Next Life?!' Latest News: FUNA's Isekai Novel Gets Anime Adaptation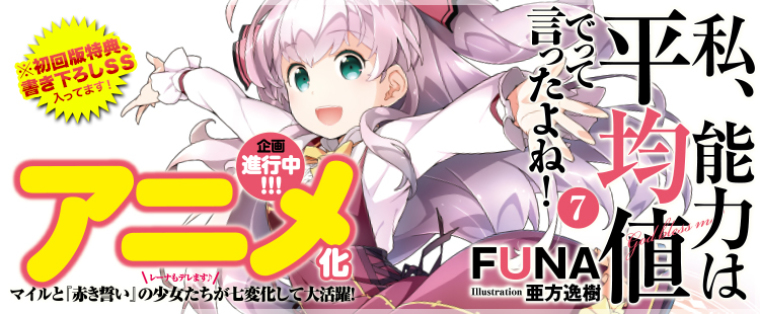 It has just been announced that the comedy fantasy light novel series, "Watashi, Nouryoku wa Heikinchi de tte Itta yo ne! (Didn't I Say to Make My Abilities Average in the Next Life?!)" is getting adapted into an anime.
The announcement was made on the official Twitter page of Earth Star Entertainment's novel imprint. It does not, however, specify the format of the upcoming anime adaptation.
The original light novel series is written by FUNA and was first serialized online in January 2016 on the user-generated publishing website Shousetsuka ni Narou. It was later acquired by Taibundo and Earth Star Entertainment, and the first light novel volume was published in May of the same year under the Earth Star Novel Imprint. As of February 2018, six volumes have already been released, with illustrations done by Itsuki Akata
Moreover, a manga adaptation by Neko Mint has also been launched on Earth Star Entertainment's Comic Earth Star website in August 2016. It has since been released in two collected volumes. Both the original light novel and the manga adaptation have been licensed by Seven Seas Entertainment for release in North America.
The upcoming anime adaptation will be the first for Earth Star Novel, which has just celebrated its third year last December.
The series tells the story of a girl named Adele von Ascham, who gets hit by a horrible headache when she turns 10 years old. Strangely enough, this headache also comes with memories of her previous life as an 18-year-old Japanese girl named Kirihara Misato. As Kurihara, she lived a rather normal life that was changed abruptly when she died trying to save a little girl.
And when Kurihara found herself before God, she made an odd request to have average abilities in her next life.
However, as is usual with most wishes, things do not really go quite as planned for Adele, Kurihara's new incarnation.
More details about the upcoming "Didn't I Say to Make My Abilities Average in the Next Life?!" anime are expected to be released in the coming months.