Duck Dynasty Pay Increase Reaches $200,000 Per Episode, Will be Shared Amongst 18 Cast Members
The A&E smash hit reality series "Duck Dynasty" will return with one big change, the Robertson will get a big raise for the upcoming season.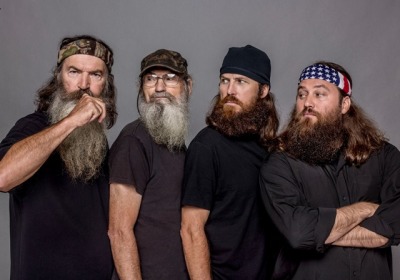 While the past contract negotiations proved to be a little disruptive to the filming of the last season the new deal reportedly secured the Robertson's for several additional seasons given the network renews the series for future seasons.
The family will earn more than $200,000 per episode, which will be divided among the 9 adults and 11 children on the show. The pay raise is four times as much as they were earning for previous episodes.
The members of the unscripted series have earned hike in pay given that the show has been a smash hit in the ratings department, which aided in the recent contract negotiations.
Season three grew to a record 9.6 million total viewers for the finale, and was second only to "The Walking Dead" across cable.
The pay raise will be on top of the family's earnings through their outdoor merchandise line, Duck Commander.
The youngest brother of family patriarch, Phil Robertson, Si works at Duck Commander where he's been making the reeds for duck calls since his retirement from the U.S. Army and will be releasing his new book, titled Si-cology 1: Tales and Wisdom from Duck Dynasty's Favorite Uncle, next month.
Si Robertson, who says God has a sense of humor because he's turned four disheveled-looking Christian guys into reality television stars shares anecdotal advice and stories about life in his book
Si, who's known for his storytelling and for saying that he carries three items along with him everywhere he goes: tea, the Tupperware cup his parents sent to him during the Vietnam War, and his Bible, told LifeWay that the Robertson family gives God the glory for all of their success.
"Hey, it's unreal," Si explained.
"'Cause if you asked any of the Robertson men who's behind all this – [people] ask Willie all the time, 'How did you become so successful?'"
The answer that Willie provides, according to Si, is "hey, that would be the Almighty. He's the one that has made this a success."