'Five Nights at Freddy's World' News: RPG Spinoff May Not Have Predecessors' Impact
Indie video game developer, Scott Cawthon is reportedly going a different direction with his upcoming "Five Nights at Freddy's World," presenting the spinoff as an RPG.
With the news "Five Nights at Freddy's World" is reportedly going to launch as a role-playing game, departing from the suspense-horror genre, Scott Cawthon's new spinoff in his runaway success of a franchise may not have the same impact as its predecessors.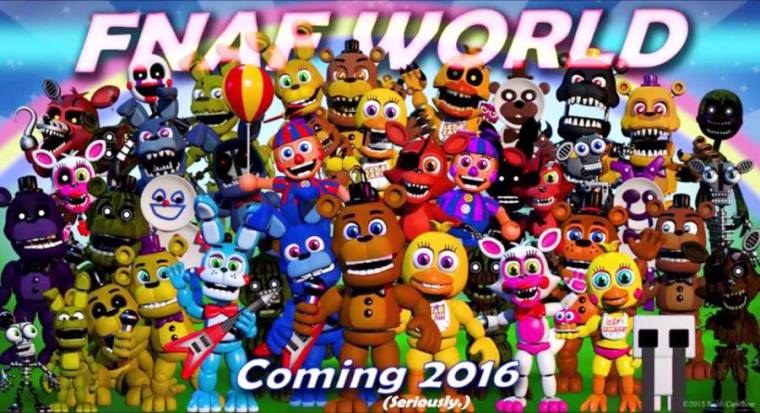 Cawthon did confirm that this latest game in the series would instead be a playful take on the indie developer's animatronic characters, which fans of the game have been introduced to as the ominously scary creatures that haunt Freddy Fazbear's Pizza at night during the last four installments of the point-and-click horror video titles.
Based on the teaser, the grotesque characters from the game have taken on a more child-friendly appearance. Instead of looking like nightmare fodder, Chica, Foxy, Bonnie, and Freddy himself have the charisma of pre-school cartoons.
"FNAF World" will also be released in a different genre fans of the game have been used to, launching instead as a role-playing game so far removed from its horror past.
While rumors of microtransactions have yet to be confirmed, "FNAF World" has been speculated to be geared towards a younger audience more accepting of microtransaction-filled video games.
With "FNAF World" appeared to be designed to target kids, fans of the game shouldn't expect it to have the same depth as the original, with speculations the game is likely going to revolve solely on Freddy and his animatronic pals banding together to stop a common enemy.
While "Five Nights at Freddy's World" has yet to have a released date announced, its predecessor, "Five Nights at Freddy's 4" is already scheduled to get a free DLC by Halloween, with a new challenge mode and an upgraded version of one of its popular mini-games.
Whether the "FNAF World" resonates with fans of the previous game titles, as well as its intended younger target audience, remains to be seen when the game is finally released for PC 2016.