Google Nexus 5x and Nexus 6P Color Variants Leak Ahead of Launch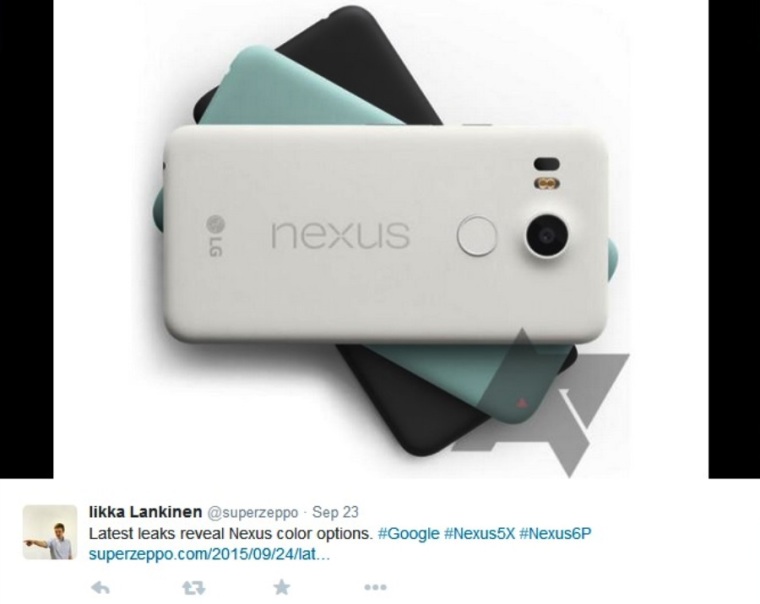 Leaked images of the Google Nexus 5X and the Nexus 6P have revealed the different color variants the smartphones will be available in when they launch.
With less than two days to go before Google unveils its two latest devices, the Google Nexus 5X (formerly the LG Nexus 5) and the Google Nexus 6P (formerly the Huawei Nexus 6), leaked renders have emerged online showing the upcoming handsets with their different color options.
Ever since rumors of the new Google Nexus handsets emerged several months ago, there has been a deluge of leaked photos and specs featuring the Nexus 5X and the Nexus 6P. Now, with the handsets' official unveiling at hand, more image leaks have appeared, making users wonder whether there will be any secrets left to uncover when Google presents its new handsets to the public on Tuesday.
The leaked image for the Nexus 5X display three color options for the LG-made smartphone: white, black, and mint. The mint-colored model appears to be a darker shade than the previously leaked image of a live Nexus 5X that appeared online a week ago, which was followed by another leaked photo of the top front section of the Nexus 5X and the two Nexus handsets' retail packaging.
The Nexus 5X will feature a 5.2-inch display with a 1080p resolution. Carrying a Snapdragon 808 processor supported by 2GB of RAM, as well as 16GB and 32GB internal storage options, it will have a 12.3MP main camera, and a 5MP front snapper. It will also be powered by a 2,700mAh battery, and come with a USB Type C port and a fingerprint scanner.
The Nexus 6P, on the other hand, has been revealed to come in four color options, including aluminum, graphite, frost, and gold, the latter color variant said to be exclusive only for Japan.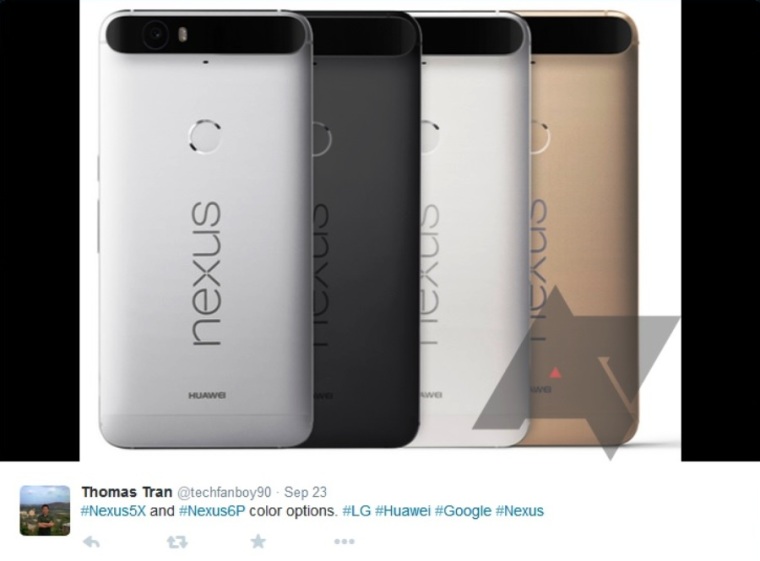 The 5.7-inch Huawei-manufactured handset features a WQHD display over a Snapdragon 810 v.2.1 processor that will be supported by 3GB of RAM, and a choice of 32GB, 64GB, and 128GB of internal storage. Carrying a USB Type C port, and a fingerprint scanner, the Nexus 6P has been reported as falling under phablet territory.
The new Google Nexus handsets with their full specs and color options will finally be unveiled at the search engine giant's special event on Tuesday.