Gwen Stefani Pregnant Rumors: Blake Shelton Sees Funny Side of Speculations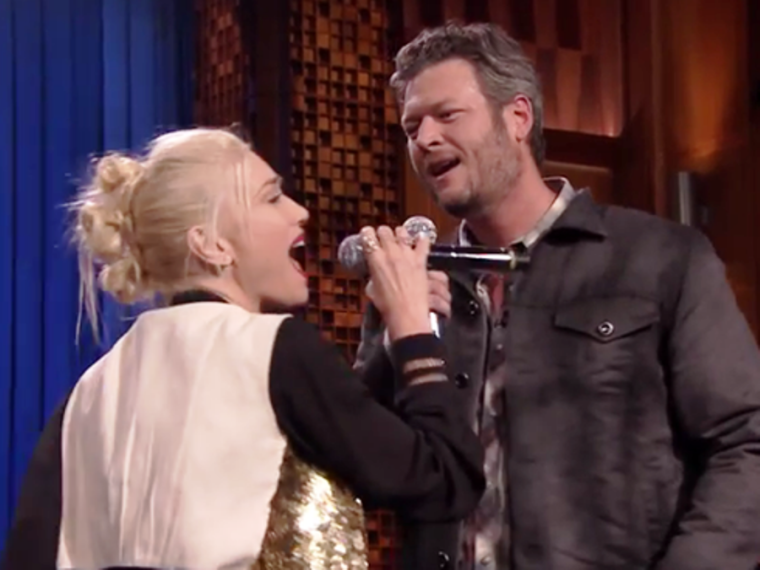 Blake Shelton has been making jokes over rumors fellow "The Voice" coach, Gwen Stefani, is pregnant with his baby.
After Gwen Stefani broke down in tears on "The Voice" following rumors her new love interest, Blake Shelton, had gotten her pregnant, Shelton took to Twitter to put a humorous face on the speculations he had gotten his co-host in the family way.
While a majority of his Twitter followers said they didn't believe reports the 39-year-old country music singer had gotten 46-year-old Stefani pregnant so soon after his divorce from his wife of four years, country music artist Miranda Lambert, some of his fans called him out for the alleged pregnancy, to which Shelton responded people who believed the rumors were dumb.
"The more they run my name down the more my price goes up." Shelton tweeted on Friday, even responding to a follower who joked they were also having his child by posting "Ha!!! You too!!! D*** I'm fertile!!"
When a fan predicted the following weeks' headlines could feature Shelton in a love triangle with an alien and Elvis Presley, the singer tweeted back the news "could be true."
Stefani, who filed for divorce from her husband of 13 years, English musician and Bush's lead singer Gavin Rossdale, due to allegations he had been having a long-standing affair with the nanny of their three children, has moved on to a relationship with Shelton, her fellow coach in NBC's reality TV singing competition, "The Voice."
Shelton, on the other hand, who recently filed for divorce from Lambert, made a joint announcement with Stefani earlier this month telling fans they were dating.
A week after the announcement, pregnancy rumors began surfacing, beginning with OK! Magazine reporting Stefani had conceived Shelton's child.
While Stefani has yet to respond to the rumors, she was seen in tears on "The Voice" in the middle of filming an episode earlier last week.