HTC One X9 iPhone Clone Revealed at TENAA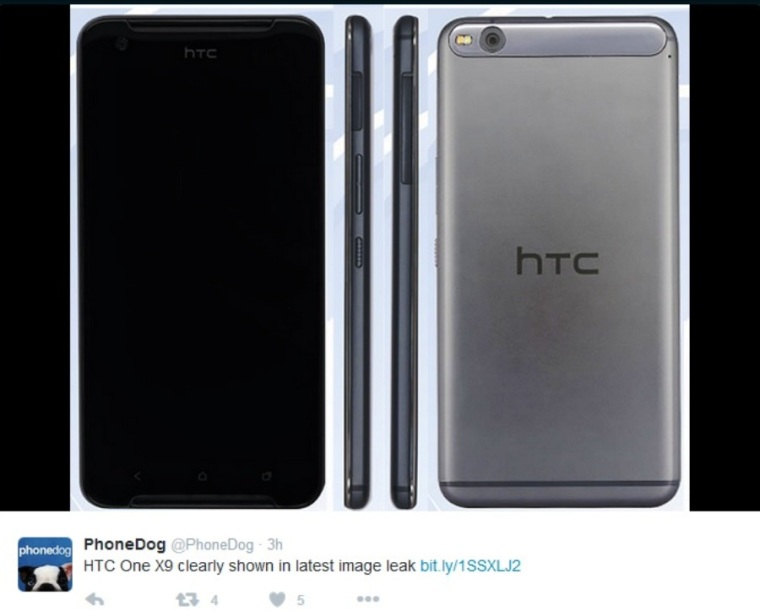 Photos have emerged showing the HTC One X9 iPhone clone that's been confirmed as having passed through its TENAA certification.
Chinese telecom equipment authority TENAA has recently confirmed that Taiwanese smartphone manufacturer, HTC has had its iPhone look-alike, the 5.5-inch 1080p resolution One X9, pass through for certification, following weeks of rumors a larger version of the One A9 is soon to hit the market.
Appearing similar the One A9, the One X9 has borrowed more than a few features from the iPhone 6, as well as some other similarities with the Google Nexus 6P. The upcoming handset features a glass-encased camera bar that can be found along the top edge of the device.
TENAA has further published some of the One X9 specs, which include a bigger touchscreen compared to the One A9, and a 2.2GHz quad core SoC supported by 2GB of RAM and 16GB of internal storage. It will also have a microSD slot for further storage expansion up to 1TB.
The One X9 features a 13MP rear camera with a 5MP selfie camera at the front with 1080p video capture capabilities. The handset is also set to return HTC's signature Boomsound stereo speakers which were notably absent from the One A9. However, with the addition of the speakers is the absence of a fingerprint sensor.
The One A9 will be will running Android 5.0.2 out of the box, and will measure 153.2mm x 75.9mm x 7.99mm when it ships, carrying bands attuned to China's telecom networks.
While the device carried an older Android OS version during its hardware and software testing and during its TENAA certification, there are speculations the One X9 will run on a newer OS, likely the Android 5.1.1, when it is finally launched.
HTC has yet to officially announce the existence of the One X9, which is rumored to be unveiled under a different name and carry several modified specs when it exits China for sale in other markets.