Hurricane Isaac 2012 Path Map Update: Missing Florida, Heading for Alabama-Mississippi (PHOTO)
Hurricane Isaac 2012 Path Map Update: Missing Florida, Heading for Alabama-Mississippi (PHOTO)
Tropical Storm Isaac is still set to become Hurricane Isaac and on its current path experts map that it will now likely miss Florida but work its way up the eastern Gulf of Mexico and smash into the Alabama, Mississippi border.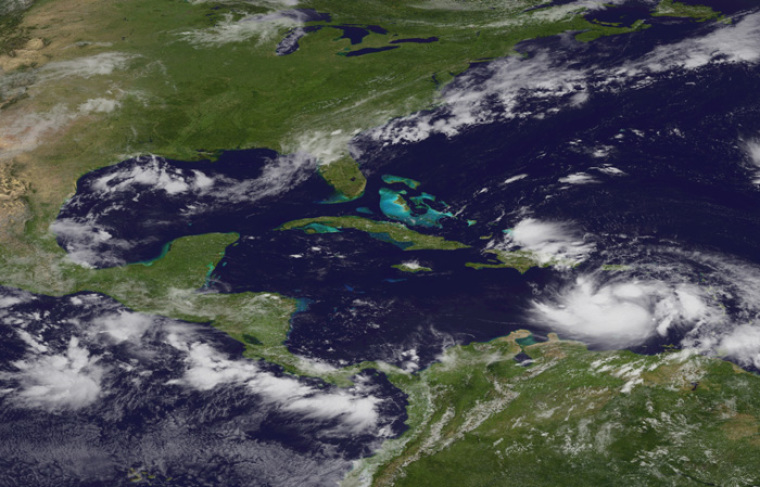 The latest news on Isaac also expects that it will probably not reach hurricane strength until the start of next week.
Dan Kottlowski, head of the AccuWeather Hurricane Center has said, "Given Isaac's current position and momentum in the Caribbean, the storm is much more likely to track into the Gulf of Mexico than to track along the east coast of Florida."
The Weather Channel has come to a similar conclusion having analyzed the latest data: "Confidence is high that Isaac will eventually affect the U.S. possibly beginning as soon as Sunday and continuing into next week. Our hurricane threat index graphic shows that locations from far southeast Texas to Florida should stay vigilant and monitor the progress of Isaac very closely."
Eric Blake, a forecaster with U.S. National Hurricane Center in Miami, has said, "We think it could become a hurricane on Monday. It would be somewhere over the Gulf of Mexico."
Despite the latest predictions experts have been quick to confirm that forecasts are only best guesses, and the path of Tropical Storm Isaac could change at any time. In particular, those attending the Republican National Convention in Tampa should still be alert to the dangers Isaac could bring, as the region is still very much in the regions being predicted to be hit by the storm or hurricane.
Isaac swept across the eastern and southern region of Puerto Rico on Thursday, with reports claiming that waves as high as 3 meters were witnessed in some areas in the Caribbean.
Isaac was centered just over 150 miles south of Santo Domingo, Dominican Republic, and has now strengthened to about maximum sustained winds of 45 mph. It is currently moving westwards at about 15 mph.
Hurricane Isaac Forming In The Atlantic Ocean -- Puerto Rico And Other Islands On Watch -- Report