Indianapolis Colts vs Arizona Cardinals Live Stream Free: Watch Online NFL 2013 Football (Start Time, CBS TV Schedule)
Indianapolis Colts vs Arizona Cardinals Live Stream Free: Watch Online NFL 2013 Football (Start Time, CBS TV Schedule)
The Indianapolis Colts will face off against the Arizona Cardinals on Sunday afternoon, with the Cardinals looking to win in their fight for sole possession of second place in the NFC West against the San Francisco 49ers. Today's big game will start at 4.05 p.m. ET and can be watched online through free live stream (details below).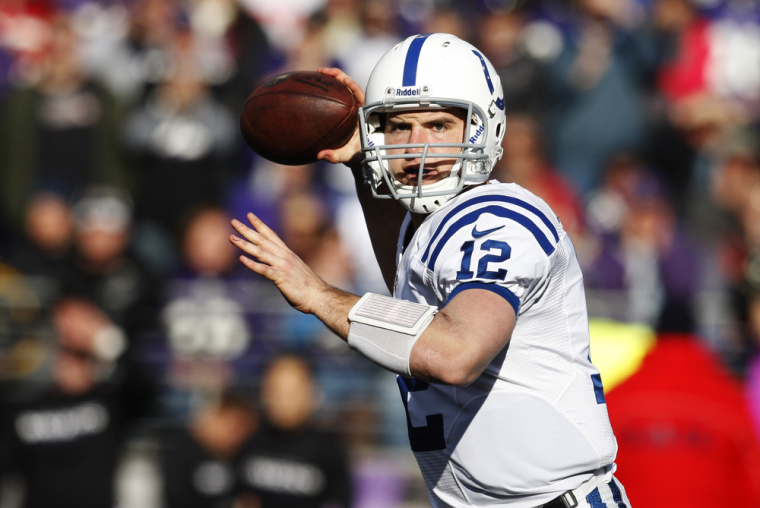 The Colts are clear at the top of the AFC South, and it would take a turn around of massive proportions for them to throw away the division title now. The Colts are 7-3, with their nearest rivals being the Tennessee Titans who are way back on 4-6. The Houston Texans and Jacksonville Jaguars are even further back on 2-8 and 1-9 respectively.
Meanwhile, for the Cardinals, there is still everything to play for. They are currently tied for second in the NFC West, tied on 6-4 with the 49ers. The Seattle Seahawks are way out in front on 10-1.
The Colts bounced back well last week against the Titans winning 30-27, following their Week 10 blowout loss to the St Louis Rams 8-38.
The Colts will rely on Andrew Luck today to keep driving their offense forward. He is on 206 of 347 for 2,430 yards and 14 touchdowns. He has used T.Y. Hilton well, successfully connecting with him on 46 occasions for 707 yards and 5 touchdowns. On the rush, Donald Brown has gone 323 yards on 55 carries, an average gain of 5.9 yards and 3 touchdowns.
Meanwhile, for the Cardinals, Carson Palmer is 224 of 358 for 2,573 yards and 14 touchdowns. Larry Fitzgerald has 6 touchdowns to his name this season, and has been Palmers favorite target man, receiving the ball in the air 45 times for 554 yards and 6 touchdowns.
On the Cardinals' rush, Rashard Mendenhall has gone 337 yards on 117 carries for four touchdowns.
The Indianapolis Colts against the Arizona Cardinals will start at 4.05 p.m. ET and can be watched on TV on the CBS network or online through free live stream by clicking here.
Indianapolis Colts vs Arizona Cardinals WEEK 12 NFL PREVIEW, 11/24/13