iPhone 6s Vs Galaxy Note 5 Specs Review: Battle of the Flagship Devices
Tech rivals Apple and Samsung will both be unveiling their flagship smartphones this fall – the iPhone 6s and the Galaxy Note 5, further cementing their competition in the marketplace.
The Apple iPhone 6s will soon ship on September 25, which will put it in direct competition with Samsung's phablet, the Galaxy Note 5, which became available at AT&T, Sprint, T-Mobile and US Cellular last month, with both devices going head-to-head for market share.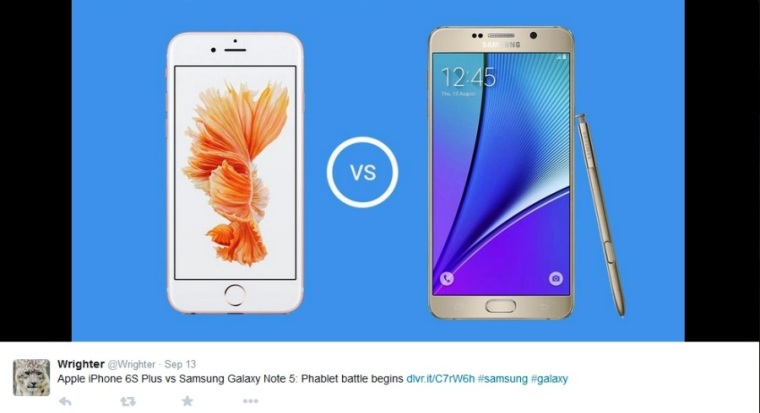 The iPhone 6s will come with a 5.5-inch Retina HD display with a 1920 x 1080 resolution and Force Touch technology. On the other hand, the Galaxy Note 5's 5.7-inch Quad HD display with a 2560 x 1440 resolution has a "screen off memo" feature that works in relation to its S-Pen stylus, allowing users to adjust their display like a notepad when the stylus is ejected, write directly on a blank screen, and save their work in their image gallery.
In terms of processor, the iPhone 6s is powered by the company's in-house A9 chip which Apple claims runs 70 percent faster and has a GPU which performs 90 percent faster than its previous A8 chip. The Galaxy Note 5 has Samsung's own Exynos 7420 chip on board, and the South Korean tech manufacturer boasts it is up to 35 percent more power-efficient compared to other chips in the market.
Design-wise, the iPhone 6s Plus is covered in 7000 Series Aluminum and protected by Gorilla Glass 4. Samsung Galaxy Note 5, on the other hand, is encased in a metal frame and is protected with Gorilla Glass 4, as well.
The iPhone 6s Plus runs on a slightly smaller in-built 2,750mAh battery. Meanwhile, the Galaxy Note 5's 3,000mAh non-removable battery offers both fast and wireless charging, with only 10 minutes plug time adding up to four hours of battery life.
The iPhone 6s Plus has a 12MP iSight camera with 4K and HD video, plus a 5MP front snapper with FaceTime HD and Retina Flash. The Galaxy Note 5, on the other hand, carries a 16MP rear camera with optical image stabilization, and a 5MP front shooter.
In terms of memory and storage, Apple's new handset has 2GB of RAM and a choice of 16GB, 64GB, and 128GB of internal storage, compared to the Samsung's phablet with its 4GB of RAM and 32GB and 64GB internal memory options.
The iPhone 6s Plus is expected to sell from between $299 to $499, while the Galaxy Note 5 is priced from between $199.99 to $349.99, both depending on the model and carrier contract.