James Holmes Joker? Suspect Joked on During Adult Website 'Shenanigans'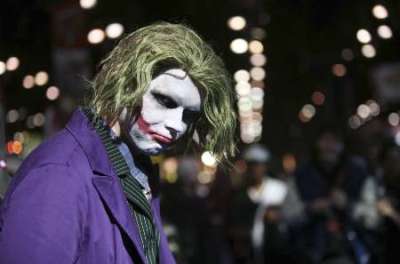 Weeks before James Holmes, the suspect in the "Dark Knight" shootings, played out his horrific scheme, it appears that he attempted to reach out for an emotional connection on an online dating website.
Days after the shooting occurred, news broke that Holmes had recently opened an account on Adult Friend Finder, a website dedicated to helping adults find casual sex partners. On his profile, Holmes had initially noted that he was interested in: group sex, sex with couples, and one-on-one intercourse.
"Looking for a fling or casual sex gal. Am a nice guy. Well, as nice enough of a guy who does these sort of shenanigans," Holmes wrote in his introductory paragraph.
However, once Holmes attempted to communicate with women on the site, a new report has revealed that he was only interested in chatting. Holmes attempted to contact three different women, according to TMZ, since opening his profile on the site July 5. Each of the three women turned Holmes down, but not because he appeared creepy. Rather, one woman stated that Holmes was not actually interested in sex.
Holmes was not actively searching for a sexual partner and instead was "just looking to maybe chat ... nothing sexual," according to one of the women who spoke to TMZ.
All three women stated that they were simply not interested in Holmes, who had posted a picture of himself with his newly dyed "Joker" hair. It appears that Holmes was already planning his imminent arrest at that time and also wrote on his profile, "Would You Visit Me in Prison."
Board certified neuropsychologist Dominic Carone has suggested that Homles had a difficult time interacting with others emotionally, which may explain his online adult dating account. In addition, he hypothesizes that Holmes may have identified with the Joker character due to a history of being bullied and ostracized. Because Holmes likely came off as socially awkward, other's receptions of him likely affected his ability to interact and even get a job, despite his high level of education.
"The Joker is known to take his anger out against the world through violent means, which sometimes involves using explosive devices and guns in public places," Dr. Carone wrote on his blog.
"It seems that Holmes was teased, probably related to his social awkwardness, and that he did not know how to handle it and held his emotions in," Dr. Carone added. "In the case of James Holmes, such feelings may have been brewing for some time."
Shooting Suspect Identified: James Holmes of Aurora Colorado