Colorado Shooting: Cross Carrying Evangelist One of First Responders to Carnage
An evangelist perhaps best known for carrying his 12-foot cross around the globe during the last 44 years – often to places of tragedy – didn't have to travel thousands of miles to share his love for Jesus late last week. Denver area resident Arthur Blessitt was one of the first responders to the aftermath of the carnage perpetrated by a gunman at an Aurora, Colo., movie theater.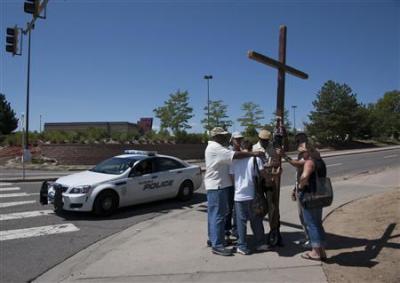 On Friday morning, Blessitt took his cross from the parking lot of a nearby Target and walked behind police lines to the Century 16 theater, the site where 12 people were killed and 58 wounded by suspected shooter James Holmes during a midnight showing of the new Batman movie.
"People rush to the cross, touching it, crying, praying and then we sing a song and some people bring flowers. Dozens and hundreds of people have been coming to the crosses. They find comfort and hope and see the love of Jesus. It's moving beyond words – a light in darkness," Blessitt wrote in an email to The Christian Post after finishing three days of ministering to people in grief close to the massacre.
He and his ministry partners, some of which are family members, then moved to a nearby school where people were looking for their loved ones and where counseling was provided.
"Everyone has been welcoming and thanking us for bringing the cross to them. With tears people have found fresh hope and many have found new life in receiving Jesus as Savior," Blessitt said.
The scene in Aurora reminded him of his time in West Beirut, Lebanon in 1982, when he carried the cross there on his "journey around the world."
"It is one thing to discuss war and killings but it's another to experience its devastation at close range. How it tears apart the humanity and blackens the spirit of most people it touches," he said. "I was not in Lebanon as a politician, a diplomat or a reporter. I was there as nothing more than a simple man with a cross … We had a calling from God to visit that land, torn to pieces by the atrocities of war."
He shared that he and his family also had a calling from God to minister in Aurora. While he and his wife live in the Denver area, he has several children and grandchildren living in Aurora.
"Four of my children and one of my grandsons have been out ministering and praying with people. My daughter Gina has been out with her cross and another friend I know has been out with another cross," he explained.
"In places of suffering and hurting let's find comfort in the loving arms of Jesus. Evil is within. The most needy place in the world is the human heart. Loving hearts do not hurt or murder," Blessitt proclaimed in his email to CP. "Many people facing tragedies of many sorts question 'Why.' The answer for me is what Jesus said, 'The devil has come to kill, steal and to destroy, but I have come that you might have life and have it more abundantly.'"
He said he has carried a 12-foot cross around the world to every nation, major inhabited island group and territory, for a total of 321 places. He estimates that he has carried the cross more than 40,000 walking miles over the past 44 years. Also, he's been in the area of 54 wars and arrested 24 times.
He has walked "about 80 million steps, carried a weight of about 18 billion pounds and at the age of 71 don't have an ache or pain in my body. Jesus did it. All glory to God."
When asked about his future plans in Aurora he said, "I feel that most of my ministry is completed in that area. I am talking with some people by phone and email. However, now that the churches have stepped up and I am very pleased. My focus was on the immediate response. Like an emergency EMS medic. That has always been my calling. Go right in and minister and work with others to do the follow up."
In the aftermath of the tragedy, he hopes others will follow his example.
"I trust that the direct actions will inspire others to go to the places and people of crises and share Jesus. Even to make a cross and carry it or stand it up and let people come to pray," he said. "My prayer now is that the same thing will happen with disasters and crises – people going to share Jesus as first responders, people making and lifting up crosses for people to come to and pray with loving people ministering."
Shooting Suspect Identified: James Holmes of Aurora Colorado
Footage: Shooting in Aurora, CO Theater During 'Dark Knight Rises'