James Holmes' Mother's Statement: Colorado Gunman Set for Trial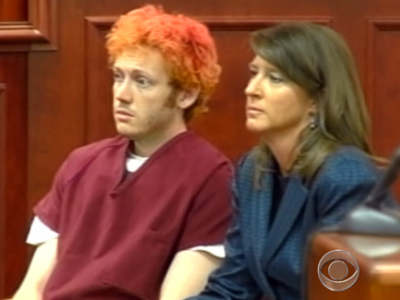 The attorney of family of the Aurora, Colorado shooting massacre suspect James Holmes issued a statement Monday afternoon.
A statement from Arlene Holmes was issued through the family's attorney, Lisa J. Damiani. The lawyer explained the circumstances behind the report Friday morning by ABC News that Arlene Holmes stated, "You have the right person."
In the statement read by Damiani, the suspect's mother clarified that she received a phone call from an ABC reporter early Friday morning before she had any knowledge of the shooting in Aurora.
Moreover, when the caller asked if they were speaking with Arlene Holmes, she said, "You have the right person," in reference to herself and not her son, James.
James Holmes' parents Robert and Arlene Holmes live in Rancho Penasquitos, California.
They are doing "as well as they can, given the circumstances," the attorney said Monday.
Damiani declined to comment on James Holmes or his relationship with the family. She also refused to describe the shooting suspect in terms of personality.
"I don't know what everyone has been saying … The investigation is still continuing," said the attorney.
Fielding the media's questions, Damiani received an inquiry about the family's reaction to seeing James Holmes in court today.
"At some point in time I might be able to discuss that but at this point I don't think the family would like me to talk about that," said the lawyer, who made it clear that she represented the Holmes family, not James Holmes.
"It's amazing how much support they are getting from their church," added the lawyer, whose clients "really want their privacy respected, that may change, but at this point in time, they don't want to talk about that."
Holmes, 24, appeared in court for the first time since his arrest Friday following the movie massacre that left 12 dead and 58 wounded.
It is unclear what might have motivated Holmes, 24, to break into the midnight screening of "The Dark Knight Rises" Friday and open fire on the crowded theater audience.
Law enforcement officials and witnesses said that he was dressed in what appeared to be a bullet-proof vest and riot-type mask during the horrific attack.
Shooting Suspect Identified: James Holmes of Aurora Colorado
Footage: Shooting in Aurora, CO Theater During 'Dark Knight Rises'