Jennifer Aniston Wedding Diet: Actress to Lose 10 Pounds Before Justin Theroux Nuptials?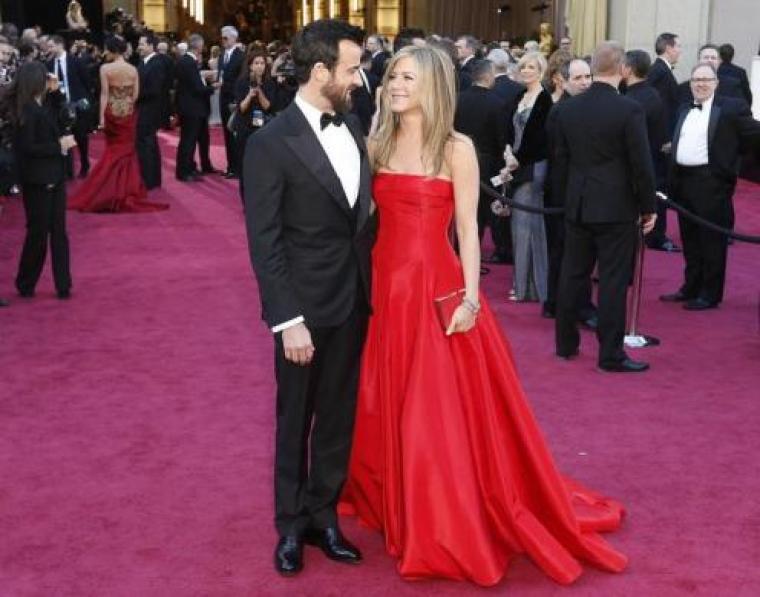 Jennifer Aniston is reportedly on a mission to lose weight before she marries her fiancé Justin Theroux.
The "Horrible Bosses" star, 45, and Theroux, 42, will reportedly exchange vows in an Island wedding later this year, however, the wedding date has not been made public. A new report claims Aniston wants to lost at least 10 pounds before her big day.
"No way is Jen getting married at this weight. She'll lose another ten pounds before she'll walk down the aisle," a source told RadarOnline.com.
"Jen's besties, including Chelsea Handler and Courteney Cox, have been informed of Jen's weight loss plan and support it," the insider explained. "Which sounds terrible, but is absolutely how Jen operates among her peer group."
Aniston, who began dating the actor in 2011, recently opened up about gaining a "couple extra pounds" and jokingly blamed her fiancé's delicious cooking.
"[He] cooks pastas amazingly ... Like, hello! Carbonara. It's a killer," Aniston told People magazine.
"The last couple of years since meeting this man have made me gain a couple extra pounds. But it's all worth it," she continued. "It catches up to you, and you take care of it ... But it's still fun. It was all in the name of love."
The Hollywood actress is said to be on a healthy diet and is working out regularly in a bid to stay in shape.
"I get up and allow 40 minutes to work out," she told Self magazine. "Cross training with sit-ups, running weights."
Theroux, who has been living apart from the former "Friends" actress since last year, has been based in New York where he is shooting the upcoming HBO series "The Leftovers" with Liv Tyler and Amy Brenneman. Meanwhile Aniston has been living in Bel Air, where she is working on her own drama "Cake."
Insiders claim the Hollywood couple are planning a small destination wedding to take place after they wrap up filming current projects.
"[Aniston] wants to have an island wedding," a source told E! News.