Jill Duggar 'Pounding Party' Celebration Before Exchanging Vows This Weekend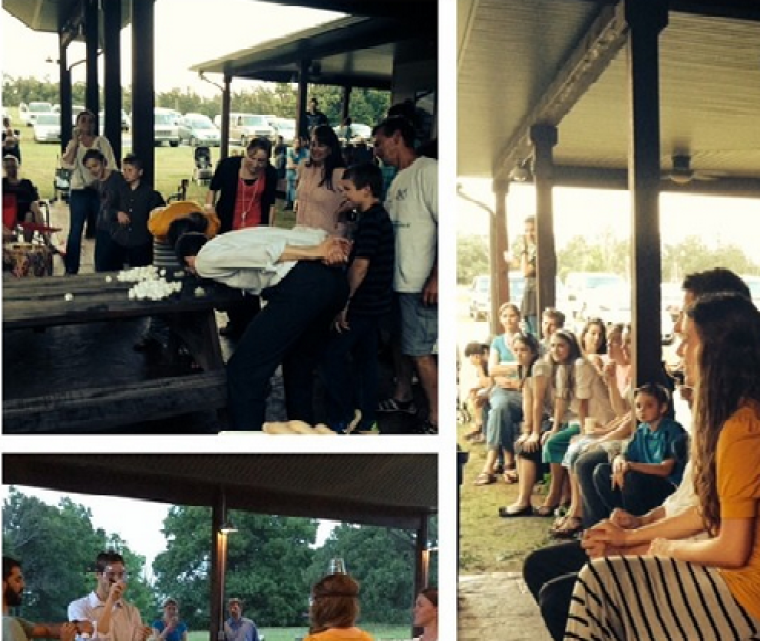 Jill Duggar and her fiancé, Derick Dillard were the guests of honor at a traditional "pounding party," a type of wedding shower in which participants bring things to stock the cupboards instead of other presents. The couple will exchange vows this weekend in front of family, friends, and fans of "19 Kids & Counting."
They already had one shower with a pink and green theme, but more recently participated in a "pounding party." The party traces its roots back to the Quaker tradition of giving newlyweds pounds of flour, sugar, and other necessities to stock a pantry. Of course, other presents may be given, but the pounding party is exclusively meant to fill cupboards so the couple is well-equipped after saying "I do."
"Our sweet friends gave us a 'pounding' today!" Duggar posted along with a picture to Instagram. "Can't wait to marry my best friend!"
In the photo, friends can be seen wearing goggles and attempting to pick up marshmallows with their mouths. The couple looks to be having a wonderful time as friends and family look on. In another photo, taken at the other wedding shower, parents Jim Bob and Michelle can be seen holding a huge cake in front of the couple.
Duggar will be the first girl to marry from the family. It has her parents realizing how much of an impact she has had on the family and what the "loss" means.
"It really is so exciting for our first daughter to be engaged," Michelle wrote on her blog. "Even Jim Bob tears up quite a bit these days. He's so happy for Jill and he really appreciates Derick and who he is. We know Derick is going to make a great husband and, hopefully, father. But at the same time, Jim Bob and I are saying to ourselves, 'Oh, wow.' We're realizing our girl is going to start a home and her own family, and that's a big deal, especially for dad."